I was having my father over for dinner and we wanted to make ribs.  Being that my father is diabetic, there was no way I could make him ribs with Brown Sugar, honey or molasses.  I needed to create something for my Dad that he would like and feel like he had a delicious BBQ meal, all without sugar of any kind.
So, this Sugar Free Old Bay Baby Back Ribs Recipe is my successful attempt at sugar free ribs.
Don't have a smoker? These ribs may not be as good, but you can put them on indirect heat in an outdoor BBQ and follow the rest of the directions.  Or, in the oven on roast at 180 degrees.  Then again, what makes these ribs sing is the combination of Old Bay and smoke.
These ribs are good enough that those who don't have sugar restrictions will still love them.  With or without added BBQ sauce.
Sugar Free Old Bay Baby Back Ribs
Print recipe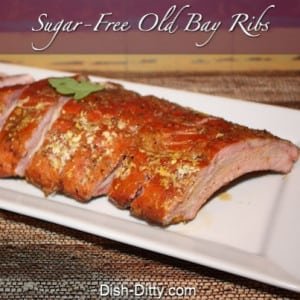 Ingredients
Rack of Baby Back Ribs
Garlic Olive Oil
Old Bay Seasoning
Montreal Steak Seasoning
Yellow Mustard
Directions
Step 1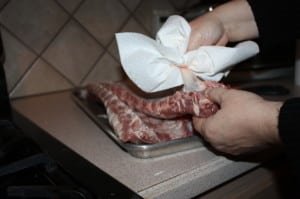 With a paper towel, wipe the moisture on the membrane side. At the small end, with a paper towel, rip off the membrane. You do this by using the paper towel to get a hold of the thin membrane that is on the back of the rib, slowly pull down to remove the membrane from the ribs.
Step 2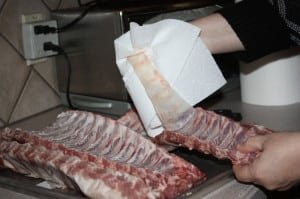 A second look at the membrane being pulled off
Step 3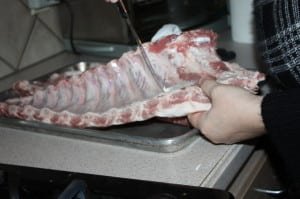 OPTIONAL: If the membrane is tough and won't come off, with a knife make a slit between each rib on the membrane side to allow the flavor to penetrate and to make it easier later to cut the ribs.
Step 4
Pour Garlic Olive Oil on the bone side, rub it in and turn over and rub the olive oil on the meat side.
Step 5
Sprinkle Old Bay (about 1-2 tablespoons per side) and Montreal Steak Seasoning (about 1/2 teaspoon per side) on the ribs on both sides and rub in.
Step 6
Using a temperature of 180 degrees, place the ribs onto the smoker and smoke for 3 hours.
Step 7
Lay down two wide sheets of tin foil (or two sets of two regular size tin foil sheets) per rack of ribs. Squeeze mustard onto the tinfoil on the tin foil in a zig/zag pattern.
Step 8
Remove the ribs from the smoker and place the rib meat side down.
Step 9
Pour mustard on the rib side, rub it in and sprinkle Old Bay (about 1/2 tablespoon). Flip the rib over, and rub in mustard, adding more if needed. Then sprinkle the meat side with Old Bay (about 1/2 tablespoon).
Step 10
Wrap with the first sheet of foil...
Step 11
Flip and wrap again to create a sealed wrap to keep the juices from escaping and making a mess.
Step 12
Place the wrapped ribs in a 190 degree oven (or back on the smoker, your preference). Bake for an additional 1 hours. Ribs should bend nicely when held up from one end with tongs and you should see the bone but the meat should not be falling off the bone.
Step 13
Time to eat! These ribs do not need any BBQ sauce, but if you like, serve with a sugar free BBQ sauce.