This is a great weeknight meal to make for your family.  It is prepared in the time it takes your rice to cook.  Ginger Beef with Asparagus is a delicious home cooked Chinese meal your family will love.
Ginger Beef with Asparagus
Print recipe
Ingredients
2 tablespoons Olive Oil (divided equally)
1 bunch Asparagus
1/4 cup Water
3 cups Marinated Beef (thinly sliced)
1 tablespoon Minced Ginger
1/2 cup Beef Broth
2 tablespoons Light Soy Sauce
2 tablespoons Oyster Sauce
2 tablespoons Cornstarch
Note
Directions
Step 1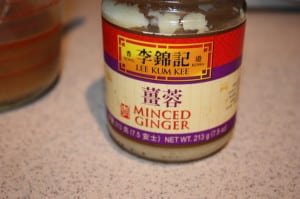 Combine Marinated beef with Minced Ginger and Cornstarch. You can chop up some fresh ginger, or use the minced ginger jar found in the Chinese food aisle.
Step 2
In a separate bowl, combine beef broth, light soy sauce, oyster sauce and cornstarch. Set aside.
Step 3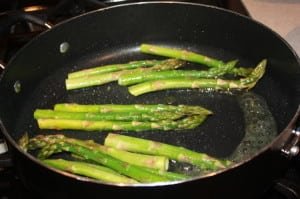 In large wok or pan, heat 1 tablespoon of oil. Add the asparagus and cook on high for about 1 minute. Add the water and cook for another 30 seconds or until the asparagus is bright green, tender, but not soggy. Remove from pan and set aside.
Step 4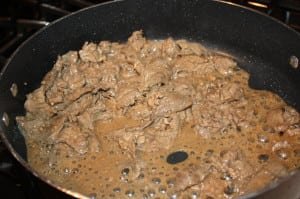 Drain all liquid from the pan and add the remaining 1 tablespoon of oil. Heat on high and add the beef. Cook stirring frequently for about 3 minutes. Beef will still be a little pink, but will be slightly browned as well.
Step 5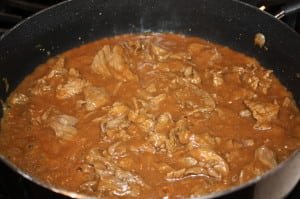 Add the broth mixture and continue to cook on high for about 1 minute. Sauce should be thick and bubbly.
Step 6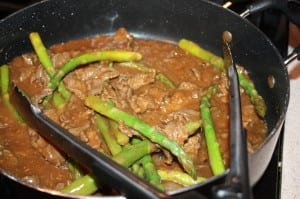 Toss in the asparagus and cook just long enough for the asparagus to get warm again. Remove from heat and serve hot.
Chinese Marinated Beef for Stir-Fry
Print recipe
This recipe is used as a base for many of my Beef Stir fry recipes. You can use as the base for most beef stir fry dishes like Beef with Broccoli, Beef Noodle Soup, etc. I usually make a couple pounds at a time and will then freeze half and then make several different stir fry dishes throughout the week.
Ingredients
2lb Beef (sliced thin)
1/4 cup Garlic (minced)
3/4 cups Soy Sauce (light)
1 teaspoon Sugar
1/4 cup Oyster Sauce
Note
This will last in the refrigerator based on how long your beef will stay fresh.  Most beef will have about 3 days of freshness, or more.
I found that flap meat is the best type of beef to use.  Do not use london broil, as it will be dry.  Tri-tip is fine.  Skirt steak is good, but is hard to slice thin.
Directions
Step 1
Mix everything together, cover and refrigerate until ready to use. Most stir fry recipes will take about 1/2-3/4 pounds of beef.