This is an easy and delicious buttercream frosting that is super versatile and does NOT need to be refrigerated.  So, you can decorate your cake and not worry about finding room in your refrigerator.


Buttercream Frosting
Print recipe
Ingredients
1/2 cup Shortening (like Crisco)
1/2 cup Butter (softened)
1lb Powdered Sugar
1/4 cup Water
2 teaspoons Vanilla
Note
VEGAN OPTION: Substitute butter for a butter flavored vegetable spread (make sure it doesn't have milk solids)
LEMON ICING: Add the juice of one lemon to the frosting for a strong lemon flavor or 1/2 a lemon for a light lemon flavor. Add yellow food coloring to make a light yellow color.
Directions
Step 1
Beat butter and shortening until fluffy. Add vanilla and 1/8 cup of water. Beat until well combined. Using slower speed on mixture, slowly add powdered sugar. Increase speed to high and beat at high for about 5 to 10 minutes or until light and fluffy. Add more water to thin and more powdered sugar to thicken.

I find that using the full 1/4 cup is the perfect balance for icing cakes, but I tend to add more powdered sugar to make it slightly thicker for decorating.
---
Many buttercream frosting recipes use milk (see Wilton's Buttercream) which will spoil if not refrigerated.  Real Simple's article explains why butter doesn't need to be refrigerated:
Butter does spoil, but much more slowly than fresh (unfermented) milk products, such as, well, milk. The reason? "Most butter contains added salt, which impedes the growth of spoilage bacteria," says John Bruhn, a dairy-foods processing specialist at the University of California at Davis.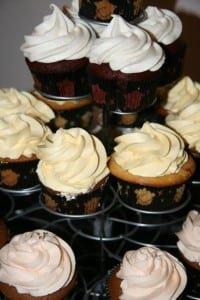 Before I was born, my Grandma took a couple cake decorating classes through Wilton.  I still have her original Wilton decorating book with her notes modifying Wilton's Classic Buttercream Recipe.
After my grandma learned to decorate cakes, she made the most amazing cakes for us. For my sister Suzie's 16th birthday, she made her an amazing Cinderella's Castle cake. I was very little at the time, but I remember being in awe looking at the detail she put into that cake.
She taught my dad the tricks of the trade and then later, he taught me. I still haven't made a Cinderella Cake, but maybe one day I will.
So, use this buttercream frosting for cupcakes, or for a super intricate decorating project. Either way, this recipe will not disappoint.