Making Chow Fun at home is simple and quick, if you can find the noodles. This Chicken Chow Fun Recipe uses the dry fry method where the noodles are added to the pan uncooked and the end result is not saucy. This is my preferred way of cooking chow fun and is what you will find at most Chinese restaurants.
Chicken Chow Fun (Dry Fried Style)
Print recipe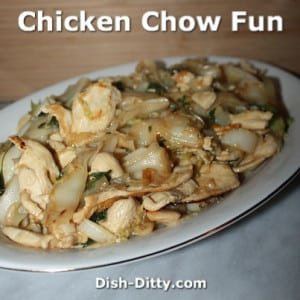 | | |
| --- | --- |
| Serves | 6-8 |
| Prep time | 20 minutes |
| Cook time | 15 minutes |
| Total time | 35 minutes |
| By author | Dish Ditty |
Ingredients
3/4lb Velvet Chicken (*See Notes for Recipe)
1 Pound/Package Chow Fun Rice Noodles (DO NOT PRECOOK, leave them uncooked)
4-6 cups Chinese Vegetables (Napa Cabbage, Bok Choy, Cilantro)
4 tablespoons Vegetable Oil
1/4 cup Light Soy Sauce
1 tablespoon Seasoned Rice Vinegar
1/4 cup Chicken Broth
2 tablespoons Corn Starch
1/8 teaspoon White Pepper
1 teaspoon Sugar
Note
Velveting Chicken: Velveting chicken is a process used to marinade and pre-cook the chicken to give it a soft velvet texture.  The recipe and instructions for Velveting chicken can be found here.
If you do not want to take the extra step to velvet the chicken, you can do the following: marinade the chicken using the velveting chicken instructions, in the step where you add the cooked chicken, use an additional 1 tablespoons of oil and add the drained chicken, cooking on high stirring constantly, until chicken is fully cooked.  It will take about 3 minutes for the thinly sliced chicken to cook.
Directions
Step 1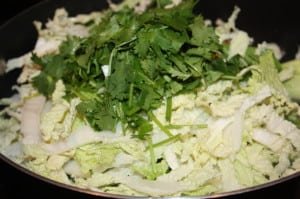 Cut up all the vegetables. I prefer to use Napa Cabbage, Baby Bok Choy and Cilantro. Other vegetables commonly used: Carrots, Bean Sprouts, Celery, and Bok Choy.

In a small bowl, mix together the soy sauce, rice wine vinegar, chicken broth, corn starch, white pepper and sugar. Set aside.
Step 2
In large wok or pan, heat 2 tablespoons of oil. Add the vegetables and cook, stirring frequently/constantly, on high until the vegetables are cooked. This takes about 3-5 minutes. Remove from pan and set aside.
Step 3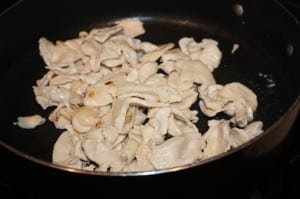 Add remaining 2 tablespoons of oil to the pan and add the chicken. Cook for about 1 minute.
Step 4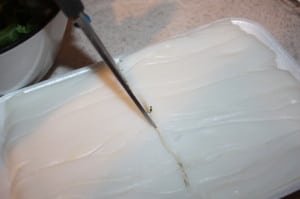 Cut the noodles in half or quarters.
Step 5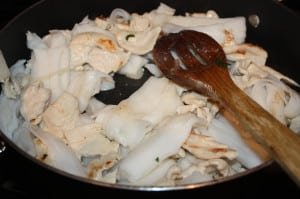 Then add the noodles to the pan with the chicken. Cook, stirring constantly while breaking up the noodles.
Step 6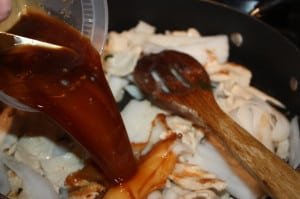 Stir the soy sauce mixture and add it to the noodles and chicken.
Step 7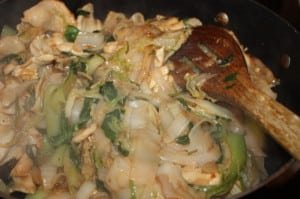 Next, add the vegetables and continue cooking on high, stirring constantly. The dish is ready when the noodles are soft, the soy sauce mixture is integrated, and the ingredients are well combined.
Step 8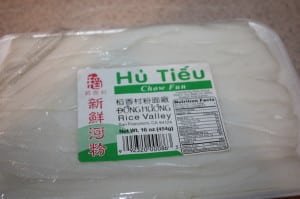 Picture of Chow Fun Package
---
Chow fun noodles are a thin flat rice noodle that is found in the refrigerated section at some asian markets. They take on the flavors of whatever you put with them and have a silky texture. I love them. I am not sure if they are found outside of areas that are heavily populated since they are typically made from fresh noodles.  I have not tried this dish with dry chow fun rice noodles.  I'm not even sure if that exists.
Anyways, if you like Chow Fun, and want to try making it at home, go for it! It is really easy and doesn't take much time.
Enjoy!
---