Making homemade pretzels at home is really easy and it's a fun activity to do with kids. There are so many options when making them at home, and you will make some great memories.
Homemade Pretzels
Print recipe
Ingredients
4 teaspoons active dry yeast
1 teaspoon white sugar
1 1/4 cup warm water ((110 degrees F/45 degrees C))
5 cups all-purpose flour
1 1/2 teaspoon salt
1 tablespoon melted butter
1/2 cup baking soda
4 cups hot water
1/4 cup kosher salt (for topping)
2 tablespoons melted butter
1/4 cup cinnamon sugar (for topping)
Directions
Prepare the Yeast
Step 1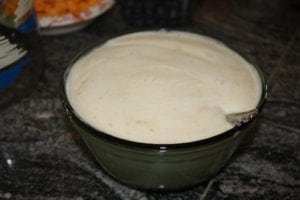 In a small bowl, dissolve yeast and 1 teaspoon sugar in warm water. Let stand until creamy, about 10 minutes.
Mix them
Step 2
In a large bowl, mix together flour, 1/2 cup sugar, and salt. Make a well in the center; add the butter and yeast mixture. Mix and form into a dough. If the mixture is dry, add one or two tablespoons of water. Knead the dough until smooth, about 7 to 8 minutes. Lightly oil a large bowl, place the dough in the bowl and turn to coat with oil. Cover with plastic wrap and let rise in a warm place until doubled in size, about 1 hour.
Roll them
Step 3
Preheat oven to 450 degrees F (230 degrees C). In a large bowl, dissolve baking soda in hot water.
When risen, turn dough out onto a lightly floured surface and divide into 12 equal pieces. Roll each piece into a rope and twist into a pretzel shape. Once all of the dough is all shaped, dip each pretzel into the baking soda solution and place on a greased baking sheet. Brush on melted butter.
For Hotdog wrapped pretzels
Step 4
If desired, instead of making into ropes, you can wrap around hot dogs.
For Salty Pretzels (Optional)
Step 5
Sprinkle with kosher salt if making a salty pretzel.
Bake them
Step 6
Bake in preheated oven for 8 minutes, until browned.
For Cinnamon Sugar (Optional)
Step 7
If you want to have a cinnamon pretzel, brush the hot cooked pretzels with melted butter and sprinkle cinnamon sugar on top.
Who can resist the charm of Homemade Pretzels? These soft and chewy delights, with their distinctive knots and a golden crust, are a perfect example of comfort food recipes that anyone can master. This article offers a simple and comprehensive guide on how to make pretzels, making it a perfect fit for both experienced and novice bakers.
In the world of baking, pretzels hold a unique place. They're not only incredibly satisfying to bake but also delightful to eat. Whether you enjoy them as a quick snack or a fun baking project with kids, this homemade bread recipe is versatile and fun. With easy-to-follow steps, this article ensures that your oven-baked pretzels will come out perfect each time.
The magic of this Easy Pretzel Recipe lies in the simple ingredients and the joy of crafting the classic pretzel shape. From the mixing of ingredients to the art of shaping and baking, every step in this recipe contributes to creating a delicious end product.
Dive into the world of DIY pretzels with this foolproof Homemade Pretzels Recipe. It's an adventure in baking that promises a tasty reward – a batch of your very own freshly-baked pretzels.
Enjoy!
---
These pictures are from a long long time ago when I had my sister in law and nephew at our house visiting. We decided to make a batch of pretzels and the fun ensued. I prepared the dough in advance and then let everyone make their own.
We made ones with kosher salt, parmesan cheese, cinnamon sugar and even some wrapped around hot dogs.
By the end, we just made little pretzel bites since we were getting tired…
But my favorite was definitely the cinnamon sugar ones…
Well, I think that's enough pictures. ENJOY!