Inspired by my Mom, this is a simple dish that can be made on any weeknight as it has very little prep and just as little cleanup. All cooked in one pot, you'll have dinner in the table in no time. Italian Chicken & Rice is a delicious and easy one pot dinner.
One Pot Italian Chicken & Rice
Print recipe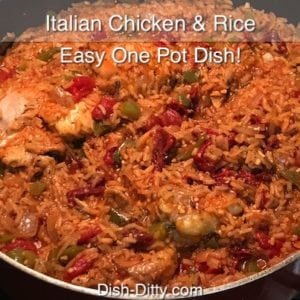 Ingredients
1/4 cup all-purpose flour
1/2 teaspoon salt
1/2 teaspoon dried oregano
1/2 teaspoon dried basil
1/2 teaspoon garlic powder
6 pieces chicken thighs (boneless, skinless)
3 tablespoons extra light olive oil (or vegetable oil)
1/2 yellow onion (diced)
1/2 bell pepper (diced)
2 tablespoons garlic (minced)
1 cup rice (uncooked)
1 can diced tomatoes with oregano (or other Italian seasonings)
2 cups water
2 tablespoons tomato paste
1 teaspoon oregano
1/2 teaspoon black pepper (or more to taste)
1/4 teaspoon salt (or more to taste)
2 heaped tablespoons sun dried tomatoes
Directions
Step 1
Place the flour, 1/2 tsp. oregano, basil, garlic powder and salt in a zip lock bag and mix it up. Add the chicken and toss to coat chicken with flour mixture.
Step 2
In a large chicken fryer pot with lid, add olive oil and heat on high. Add chicken and brown in olive oil. Remove when browned.
Step 3
In the same pot, add the onions and peppers. Cook for 1 minute until softened. Add the garlic and cook for 1-2 minutes, or until the garlic is fragrant and the onions are translucent. Add the rice and cook for 1-2 minutes, until rice starts to brown. Add the sun dried tomatoes and cook for 1 minute.
Step 4
Add the can of diced tomatoes. Use the water to rinse out the tomato can and add that water to the pot. Add all the remaining ingredients, and stir well to mix up the tomato paste. When mixture starts to boil, cover and reduce heat to a simmer. Simmer for 20 minutes (do not open the top). Remove from heat and let rest for 10 minutes. Stir and add salt/pepper as desired.
---
I was at my Dad's the other day and he had pulled out chicken to make the night before but he was too tired to cook it (heck, at 87 I'd be too tired too!). When he told me that, I realized he needed someone to help him get dinner ready and keep that chicken from going bad.
He had wanted to make my Mom's Mexican Chicken & Rice dish, which is another great weeknight dinner. But, in looking at what he had available, he had everything except for the jalapeños. I looked for a can of diced chillies, a can of tomatoes with green chillies. Nada. So, my Dad and I started adjusting the recipe to have more of an Italian flair.
Yep, my Dad pretty much told me what he wanted me to do and I just did what he said. It took me less than 10 minutes to get the chicken and rice simmer on the stove and just another 20 minutes more for the rice to be fully cooked. Such a simple thing, but sometimes even simple is hard for some.
So, this is the dish that we made together. The pictures aren't as good because they came from my phone rather than my SLR camera. It doesn't matter to me though, it was a couple of minutes spent with my Dad, cooking in the kitchen, remembering my mom, and making my Dad a healthy and hearty dinner that he could enjoy.
Enjoy!
---