One of my favorite salads from LemonadeLA Restaurant, this is my copy cat Chinese Long Beans with Summer Plums Salad Recipe.
This is the third recipe that I've made from this restaurant. I really enjoy the fresh flavors that are available at LemonadeLA and this dish is no exception. Fresh, clean flavors. Enjoy!
Chinese Long Beans with Summer Plums Salad
Print recipe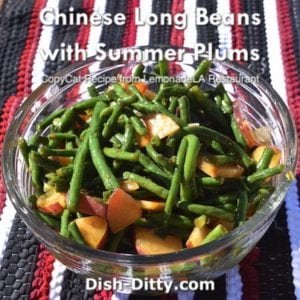 Ingredients
1/2 bunch Chinese Long Beans (washed, trimed and cut up)
1 tablespoon olive oil
4 plums (thinly siced)
salt
black pepper
1/3 cup Hoisin Vinaigrette
3 green onions (chopped)
Note
Copycat recipe from LemonadeLA Restaurant
Directions
Step 1
Bring a large pot of water to a boil on high heat. Generously add salt. Prepare an ice bath with ice and cold water in a large bowl.
Step 2
Blanch the green beans by placing them in boiling water for 3 minutes and removing and placing immediately in an ice bath. Keep in the ice bath until completely cool. Drain in a colander.
Step 3
Toss the long green beans with vinaigrette, plums and green onions. Refrigerate for at least 1 hour before serving.
Hoisin Vinaigrette
Print recipe
Ingredients
1/2 cup hoisin sauce
1/3 cup plum sauce
2 tablespoons soy sauce
2 teaspoons sesame oil
2 teaspoons seasoned rice vinegar
1 teaspoon balsamic vinegar
2 teaspoons garlic (minced)
2 teaspoons ginger (peeled and fresh grated)
1/2 teaspoon Dijon mustard
1/2 teaspoon honey
Directions
Step 1
Combine all ingredients together as a whisk. Use on salads, sandwiches, and more.
---