Yep, it's true. Hot Dog buns make great croutons.  They have the right texture and consistency and my son said they were the best croutons he has ever had.  
Hot Dog Bun Croutons
Print recipe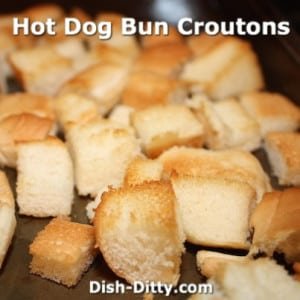 | | |
| --- | --- |
| Prep time | 5 minutes |
| Cook time | 15 minutes |
| Total time | 20 minutes |
| By author | Dish Ditty |
Ingredients
Hot Dog Buns (cut into cubes)
Pam Cooking Spray
Garlic Salt
Directions
Step 1
Preheat oven to 325 degrees. Spray a cookie sheet with pam and single layer the croutons. Spray the croutons with pam and sprinkle with garlic salt. Flip them over and again spray with pam and sprinkle with garlic salt. Bake in the oven for about 15 minutes or until they are golden brown as pictured above. Remove from oven and let cool. Store in an airtight container. Do not store until they have been completely cooled or you will make them soggy.
---
He's quite a crouton king too since his favorite salad is Ceasar Salad with lots of garlic croutons. Now he asks me for my Hot Dog Bun Croutons whenever we have Ceasar Salad. I might just have to have on hand hot dog buns at all times.
And besides, I always have leftover buns, who doesn't? When they give you packages of 6 buns but the hot dogs are sold in 8, you have to buy 4 packages of buns and 3 packages of hot dogs to get an equal number.  Now, I don't know about you, but I usually don't need to eat 24 hot dogs! So it's usually one set of hot dogs and two packages of buns and I'll wind up with  4 leftover buns.
And yes, I tried this with hamburger buns, but it didn't work as well.  It was OK, but not 'the best'. Use hamburger buns in a pinch? sure, but don't go out of your way for them.
Anyways, my ramble is over, here's the quick and easy recipe for making croutons from your leftover hot dog buns.
---