The Instant Pot craze is here! I adapted my mom's famous Cherri's Smothered Chicken Recipe to start with frozen chicken and use the Instant Pot. This is so easy and delicious.
Instant Pot Smothered Whole Chicken
Print recipe
Ingredients
1 whole chicken (can be frozen)
4 tablespoons butter
1 Large yellow onion (cut up)
4 cups water
2 tablespoons salt (divided)
2 tablespoons dried marjoram leaves (divided)
1/2 tablespoon ground black pepper
1/2 cup water
1/2 cup cornstarch
Note
Leftovers are great for using as a base for chicken pot pie and chicken ala king.
Times may vary depending on the size of your chicken or if it is frozen or not. Also you can use cut up chicken (reduce the time) or boneless chicken (reduce the time as well). It doesn't work as well with boneless breast meat chicken, but works well with boneless thighs or leg meat.  Look in your Instant Pot instructions for cooking times for the different types of chicken you plan to make.
Directions
Step 1
If using a whole chicken, you will want to make sure you are able to remove the paper. I found that I needed to soak it in water for 10-15 minutes so I could remove it.
Step 2
Set the Instant Pot to sauté and add butter and onions. Cook, stirring until onions are softened.
Step 3
Add 3 cups water, 1 Tbl. salt, and 1 Tbl. dried marjoram leaves to the butter/onion mixture. Stir.
Step 4
Sprinkle the remaining salt, marjoram, and pepper onto the chicken. Place the chicken directly in the liquid in the Instant Pot.
Step 5
Cover, set to sealing, manual high pressure for 20 minutes not frozen or 30 minutes frozen. Natural release (meaning just leave it be) for 20 minutes. Then move to venting and release the remaining pressure.
Step 6
Remove the chicken from the pot, leaving the liquid. Set the Instant Pot to sauté and bring the liquid to a boil. Combine 1/2 cup water and 1/2 cup cornstarch in a small bowl, mixing until smooth. Pour the cornstarch water mixture slowly into the bubbling sauce, stirring while adding. Cook, stirring occasionally, for one minute. Cut up the chicken and add it back to the sauce, coating the chicken.
Step 7
Serve with mashed potatoes, rice, broccoli, cauliflower... or whatever strikes your fancy.
Sunday dinners at my parents house meant amazing home cooked food, family, friends and tons of laughs. There were a couple regular dinners that my mom served, and Smothered Chicken was definitely on the regular rotation. For good reasons, it tastes great but also almost all kids and adults love it. It's so simple, that it doesn't have anything (other than onions) that are on peoples "don't like" list.
With the rise of the Instant Pot, I have found myself making this dish more and more in the Instant Pot. I find that it really does lend itself perfectly to be made this way.
But the one thing I found, is that the best use of the Instant Pot is to be able to start from FROZEN! Yes! Frozen chicken. I started with a whole frozen chicken, tried to thaw it out, but you know how that goes, right? It takes days. I didn't have that time. So I just soaked the chicken in water long enough to get that paper off the bottom of it. It was perfect!
I think you'll love it if you try it. Enjoy!
Original Recipe:
Smothered Chicken
Print recipe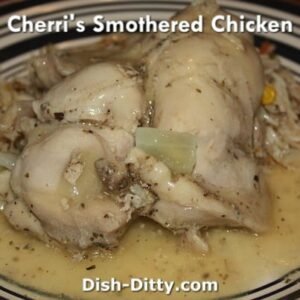 Ingredients
3-4lb chicken pieces (best if a whole cut up chicken, bone in is best)
3 tablespoons butter
1 1/2 cup onions (diced or sliced)
water (to cover)
1/4 cup cornstarch
1/2 cup cold water
1/2 tablespoon salt (or more to taste)
1/2 tablespoon pepper (or more to taste)
1 tablespoon marjoram (dried leaves, not the butter substitute)
Directions
Step 1
In large stock/soup pot, heat butter and place onions and chicken into pot. On high, brown the chicken and onions for a few minutes. (This step can be skipped, my mom never browned it, just dumped)
Step 2
Add the marjoram, salt, pepper, and just enough water to cover. It should not look like soup. You are just getting enough water in the pot for the chicken pieces to be covered.
Step 3
Bring mixture to a boil, cover and reduce heat to a simmer. Cook for about 30-45 minutes until chicken pieces are fully cooked and tender.
Step 4
Remove the chicken pieces and place on a platter (or not, I usually just leave it in there). In small bowl, combine cornstarch and water and use to thicken the liquid into a smooth gravy. Season with salt/pepper to taste and serve the gravy with the chicken over either rice or mashed potatoes.