My brother Jim makes some of the best darn BBQ Ribs around. And now he's sharing his recipe with us.
BBQ Ribs
Print recipe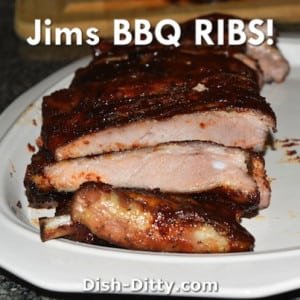 Ingredients
3 Racks Pork Ribs
Old Bay
1 bottle Jack Daniels BBQ Sauce
2 bottles Sweet Baby Rays Spicy Hot BBQ Sauce
1/4 cup Honey
2 tablespoons Dry Mustard
1 tablespoon Crushed Red Pepper
2 teaspoons White Pepper
1 Beer, like Blue Moon (room temperature, remove from refrigerator when placing ribs in oven)
1 bottle Chili Sauce (optional)
2 tablespoons Crushed Red Pepper (optional for spicier)
Note
When we were making these ribs, my father's grill went out and we were unable to finish cooking them on the grill. So, we wound up finishing them in the oven on broil. They worked out great. Although, we didn't have enough time to let them be 'fall off the bone', but they were still so darn good that it didn't matter.
Directions
Step 1
The best ribs are at Costco, but you can use this recipe for any full rack (Costco sells the racks in packs of 3).
Step 2
Rinse the ribs and pat them dry. Remove the membrane, if desired and let rest for 45 minutes between paper towels.
Step 3
Preheat your oven to 250 degrees.
Step 4
In a big oven safe pan, lay each rack down one at a time and liberally apply Old Bay Seasoning, using a fork to puncture the meat helping to embed the Old Bay at the same time. Make sure to do this to both sides. Do this for the remaining racks. Do not wash the pan, add all the ribs back into the pan. **My brother has a note 'Secret Ingredient' here. I'm not sure what that is.
Step 5
Cover the pan of ribs with aluminum foil, making sure to seal the foil around the edges of the pan as best as possible. The goal here is to keep the moisture in.
Step 6
Place ribs in oven at 250 degrees. If you are cooking three racks, you will want to bake for about 4 hours at 250 degrees. Check the ribs frequently. You are looking for them to start to pull away from the bones, but not pulled away. You may need to increase the oven to 275 degrees or lower it, depending on the number of racks you have, if your oven is gas or electric, etc. You will want to keep your eye on the ribs, especially at the 2 hour mark and beyond.
Step 7
While the ribs are baking, mix your sauce using the remaining ingredients. This is a fairly spicy sauce. If you want it to be less spicy, use Sweet Baby Rays Original BBQ Sauce instead of their Hot & Spicy BBQ Sauce. Whisk until the bubbles are gone from the BBQ sauce.
Step 8
Fire up your grill once the bones start pulling away from the bone.
Step 9
Remove the ribs from the oven and pat them dry to get the fat drippings off. Place ribs on the hot grill, meat side down. Coat with sauce and let them grill for about 2 minutes. Then turn them over and coat with BBQ sauce again. Repeat for no more than 10 minutes or until you can barely get the ribs off of the grill without them falling apart.
Step 10
Have everyone give you $100 because they now have the best damn ribs they will ever have in their life.
---
One night while my sister was in town, my brother made these ribs for us and our dad. We had a wonderful family dinner together enjoying his BBQ ribs. So so good.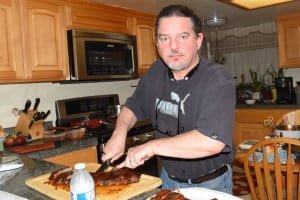 These ribs are a bit more time consuming than we usually do for a Sunday dinner. But that doesn't stop Jim from making these for us every so often. And when he does, the world is a happy place.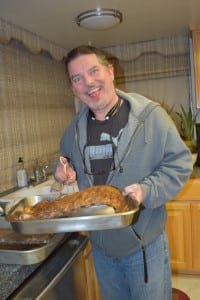 Enjoy!
---