My sister, Jammin' Judy, got this recipe many years ago and she changed it up a bit. I'm not sure of the origin, but it definitely is my favorite chili bean recipe (yep, even over beef!).


California Chicken Chili
Print recipe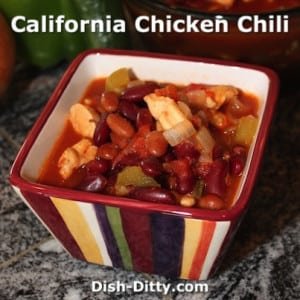 Ingredients
4 Chicken Breast Halves (skinless & cubed)
Salt & Pepper
3 tablespoons Olive Oil
3 Medium Onions (diced)
4 cloves Garlic
1 teaspoon Cumin Seed
2 Jalapeño Peppers (seeded & finely diced)
2 cups Heinz Chili Sauce (not cocktail sauce)
4 Whole Tomatoes (seeded & diced)
2 Green Peppers (seeded & diced)
1 cup Red Wine
4 cans Kidney Beans, 14.5 oz (drained)
Optional
2 cans Chili Beans in Sauce (drained)
2 dashes Worcestershire Sauce
Note
The picture was made with the optional ingredients. The original recipe called for fresh cooked kidney beans, this recipe is a quick version of that.
I find it to have a little too much liquid, so I like to simmer for 1/2 hour uncovered, then cover for the last 1/2 hour. I also added the extra beans since it seems like the balance of beans to stuff was off.
I also added the dashes of Worcestershire sauce since I thought it was in the recipe, but it isn't listed in the current family cookbook.
Directions
Step 1
In a large, heavy pan add the olive oil and brown the chicken pieces. Set the chicken aside and sauté the onions, garlic, cumin seeds and jalapeno peppers until the onions become transparent. Return the chicken to the pot, add the kidney beans and all of the remaining ingredients. Simmer for 1 hour.
---
It does not have quite the same flavors as traditional chili, but it is fresh and light and perfect for a large gathering. So chili really shouldn't be in the title, but we'll go with it.
Enjoy!
---