Made by my son when he was 7 years old and this is his start into the culinary arts. Or at least just being able to fend for himself. Yes, it resembles my mom's "Tuna on Toast" and the ingredients in many Tuna Casseroles. But, he came up with this all on his own. I love having him in the kitchen creating his own recipes, which doesn't happen often enough. Here's to seeing more recipes from Justin.
Tuna & Pasta
Print recipe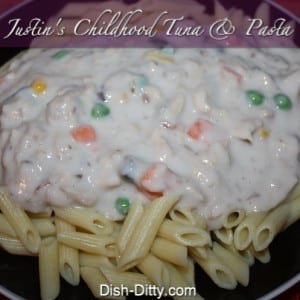 Ingredients
1 can Cream of Mushroom Soup (10.5 oz)
1 can Tuna (7oz (I prefer albacore))
1/4 cup Milk (can be skimmed)
1/2 cup Mixed Frozen Vegetables
3 Servings Pasta or Egg Noodles (cooked)
Note
Created by my son Justin when he was 7 years old. It's so fun letting kids cook.
Directions
Step 1
Combine cream of mushroom soup, tuna (drained), milk and vegetables in a small sauce pan. Bring to a boil. Reduce heat and simmer for 5-10 minutes. Serve over cooked pasta.