A great quick weeknight meal all by itself or use as a side dish.  Either way, you'll love it.
Sesame Garlic Noodles with Beef
Print recipe
| | |
| --- | --- |
| Serves | 4-8 |
| Prep time | 10 minutes |
| Cook time | 15 minutes |
| Total time | 25 minutes |
| By author | Dish Ditty |
Ingredients
Prepare Beef
2 cups Marinated Beef ((See recipe in notes section))
2 tablespoons Garlic (minced)
1 tablespoon Garlic Olive Oil
Boil Noodles
1lb Spaghetti Noodles (dry)
Stir Fry
1 tablespoon Garlic Olive Oil
Cook Vegetables
4 cups Napa Cabbage (sliced thin)
2 cups Baby Bok Choy (sliced thin)
1/2 cup Red Peppers (sliced thin)
2 cups Green Onions (sliced thin)
Finish it
1/4 cup Light Soy Sauce
1 tablespoon Oyster Sauce
1/2 tablespoon Seasoned Rice Wine Vinegar
2 tablespoons Pure Sesame Oil
Directions
Just a note
Step 1
In this recipe, you will be cooking the noodles while you cook the beef. If you are worried about doing two things at once, boil the noodles first and rinse them with cool water to keep them from cooking. You will not get the same results, but it will be fine.
Prepare
Step 2
Start by putting a large pot of water with a couple dashes of salt on your stove and heating it on high to bring to a boil.
Step 3
While your water is boiling, combine the marinated beef and minced garlic together in a small bowl. Set aside.
Step 4
Chop all your vegetables and set aside
Step 5
In a small bowl, combine 1/4 cup soy sauce, 1 tablespoon oyster sauce, 1/2 tablespoon seasoned rice wine vinegar and 2 tablespoons pure sesame oil. Set aside.
Stir Fry
Step 6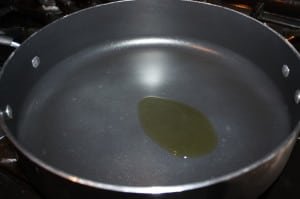 In large wok or skillet, heat and add 1 tablespoon of Garlic Olive Oil (can use regular olive oil).
Step 7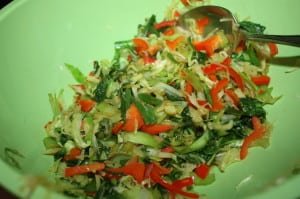 Add the vegetables and cook until the vegetables are wilted and soft. Remove from pan (just put back into the bowl you used to hold them).
Step 8
**Now is the time you should add your spaghetti to the pot of boiling water. Be sure to set a timer to know when to remove the noodles.
Step 9
In the same pan, add the other 1 tablespoon of garlic olive oil and 1 tablespoon of sesame oil and heat until hot. Add the meat and cook quickly stirring constantly.
Step 10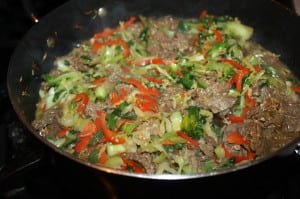 When beef is browned and 75% cooked, add back the vegetables and cook on medium until the noodles are cooked (about 3 minutes).
Step 11
When the noodles are done, drain (but do not rinse) and add to the beef and vegetable mixture. Add the soy sauce mixture from Step 5. Continue to cook for about 2-3 minutes, tossing gently to combine all the vegetables, meat, noodles and sauce together. Serve Hot.