This is a great marinade for Korean short ribs.  Add the mango, cilantro, and juice to give it a different twist from a traditional Korean Short Rib.
Korean BBQ Short Rib Marinade
Print recipe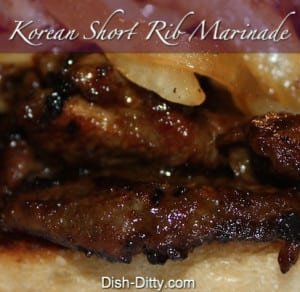 Ingredients
1 1/2 cup Dark Brown Sugar
1/3 cup Whole peeled garlic
1/3 cup Fresh Ginger
1/2 cup Soy Sauce
1/2 cup Fish Sauce
1/4 cup Sesame Oil
1/2 bunch Green Onions
1/2 cup Dole Orange Peach Mango Juice (optional)
1 cup Fresh Mangos (diced, optional)
1/2 bunch Cilantro (optional)
Directions
Step 1
Combine all ingredients in a blender and blend until smooth. Use as a marinade for short ribs.