Using up that leftover turkey and pan drippings is easy with this Leftover Turkey Soup Recipe.

Enjoy!
Leftover Turkey Soup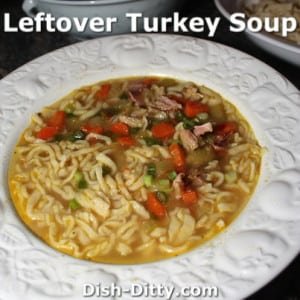 Ingredients
1 Turkey Carcass (leftovers)
3 cups Veggies from Turkey (leftovers)
2 Bay Leaves
1 cup Dry Vermouth
2 teaspoons Salt (or more to taste, but wait until the end)
5-10 Peppercorns
Water
1 cup Diced Celery
1 cup Diced Carrots
1 cup Diced Green Onions
Grandma's Egg Noodles (See notes for recipe link)
Note
If you don't have a leftover turkey or used a different turkey recipe, save a little of the pan drippings aside for your soup and instead of blending the veggies (which you don't have) just add 1 red oniononion, 2 celery stalks, and 2 carrots to the pot.
Recipe for Herb Roasted Turkey
Recipe for Grandma's Homemade Egg Noodles
Directions
Step 1
Blend the veggies from the bottom of the turkey pan together. Add 2-3 cups of this to a large stock pot to start your soup.
Step 2
Add the carcass, bay leaves, dry vermouth, salt and water. For a large stock pot, the water should go about 2/3 of the way up the pan, maybe more if you have a huge carcass. If your carcass doesn't fit, break it in half or quarters.
Step 3
Bring the stock to boil, reduce heat and cook covered for 2-3 hours.
Step 4
Remove the carcass and discard the bay leaf. Pull the meat off the carcass and add back to the soup. Add any additional leftover turkey to the soup if you want it to be meatier.
Step 5
Add the diced celery, diced carrots, and diced green onions to the soup. Bring it back to a boil, cover and simmer for about 30 minutes before serving over Grandma's Noodles.
---
Homemade Egg Noodles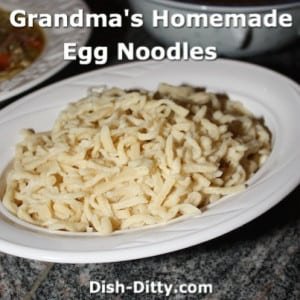 | | |
| --- | --- |
| Prep time | 30 minutes |
| Cook time | 5 minutes |
| Total time | 35 minutes |
| By author | Dish Ditty |
Ingredients
2 Medium Eggs
3-4 tablespoons Water (more if needed)
1 teaspoon Salt
4 cups Flour
Directions
Step 1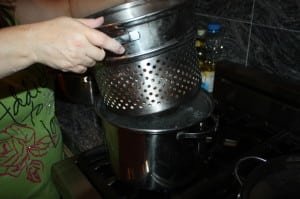 Bring a large pot of water to boil. While the water is coming to a boil, make the noodles. If the water boils before you are ready, cover the pot and keep it at a slow boil.
Step 2
Reserve 1/2 cup of flour and add only if needed.

Mix together the water, egg and salt. Add to the flour and mix/combine with your hands (I prefer to wear food service gloves) until it comes together and forms a ball. Add more flour or water if needed. Don't add too much, though, just a little at a time. The dough shouldn't be dry or too sticky and should be pale yellow in color.
Step 3
Place flour on your board and rolling pin. Break off 1/3 of the ball of dough, and flatten with your hand onto the board. Flip so that you have flour on both sides of the dough.
Step 4
With a rolling pin, roll it out flat.
Step 5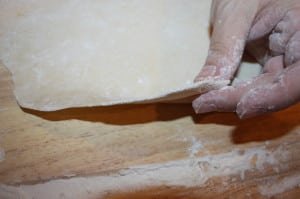 The thinner you roll it, the thinner the noodles. I like it about this thin...
Step 6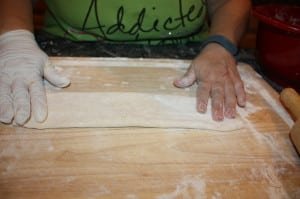 My mom used to not make hers as wide as mine, but my board is only so long, so, like her, I fold/roll it over...
Step 7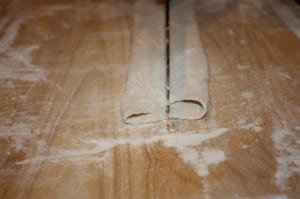 Then I slice it down the middle so that the noodles are smaller. If you prefer longer noodles, skip this step.
Step 8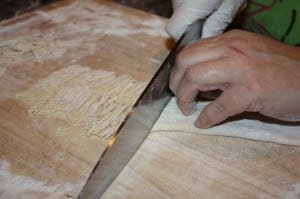 Cut the noodles. Be sure to use a sharp knife and use your knuckles as a guide, this will prevent you from cutting yourself and will allow you to make the noodles thin.
Step 9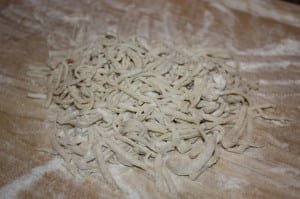 As you cut the noodles, toss them with a little more flour to keep them from sticking together.
Step 10
Drop the noodles into the boiling water, stirring to keep the noodles from sticking.
Step 11
The noodles will float when they are done.
Step 12
Either serve the noodles immediately or rinse with cold water. The cold water will stop the cooking process and will prevent the noodles from getting sticky and soggy.
Step 13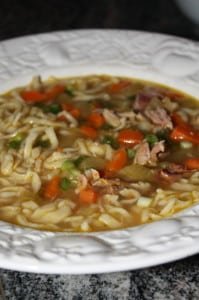 I prefer to serve my noodles with soup like this leftover turkey soup.
---
Herb Roasted Turkey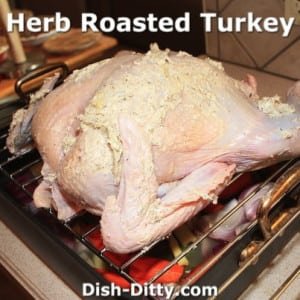 Ingredients
1 Turkey
Turkey Injector Marinade (optional)
3 Red Onions (peeled & quartered)
10 Carrots (peeled and halved)
Tops of One Celery Bunch
1 can Chicken Broth
1 bottle Dry Vermouth
2 sticks Butter (softened)
2 tablespoons Herbes De Provance
2 teaspoons Kosher Salt
1 teaspoon Black Pepper
Directions
Step 1
Wash & Dry turkey. Inject with turkey injector marinade (optional).
Step 2
In a separate bowl, combine butter, herbes de provance, salt & pepper together. Rub this under the skin of the breast and all over the turkey as shown in the picture.
Step 3
In a large roasting pan, place all the vegetables (onions, celery, carrots) onto the bottom and add the chicken broth and wine.
Step 4
Place the turkey on a rack over the vegetables, not allowing it to touch the vegetables. Roast at 350 degrees until turkey reaches 165 degrees in the breast and 180 degrees in the thigh. About 20 minutes per pound.
Step 5
Let the turkey rest for at least 20-30 minutes before slicing.