Butter Beer from Universal Studios Harry Potter World is something that is un-describable. I have been trying to replicate it and so far this is pretty close.


Butter Beer
Print recipe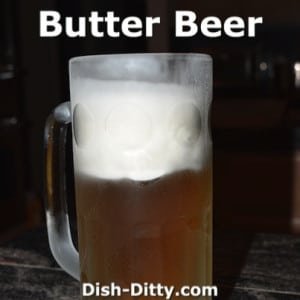 Ingredients
6 bottles Cream Soda
1 cup Marshmallow Fluff
1/4 cup Butterscotch Syrup
1 cup Heavy Whipping Cream
1/2 cup Coolwhip Topping (thawed in refrigerator)
1 1/2 teaspoon Rum Extract
1 12/ teaspoon Butter Extract
Directions
Step 1
In a bowl, mix together the marshmallow fluff and the butterscotch syrup until smooth, using a whisk if needed. Fold in the cool whip topping.
Step 2
Whip the whipping cream until stiff. Fold into the marshmallow fluff mixture.
Step 3
Fold in 1/4-1/2 cup cream soda into the marshmallow mixture. This will be used as your topping.
Step 4
In 5 frosted glasses, add a bottle of cream soda to each. In each glass, stir in 1/8 tsp Rum Extract and 1/8 tsp Butter Extract. Top with marshmallow fluff topping.
---
There were two types of butter beers there. One that was frozen (like a Slurpee) and one that was more like a beer. This is the latter drink, not the frozen one. The most difficult part of reproducing this drink is the topping. When they serve it, the drink portion is just a standard soda fountain. Then they add a foam top from a machine.
So, trying to duplicate that, is likely not going to happen. But, I'm trying. This wasn't quite exactly like the one from Universal, but it was pretty good. Fun to make too.
Here's a couple links for
Butter Beer Recipes from Wizarding World park
Orlando Informer Butter Beer Recipes
Try one of those our our Harry Potter's Butter Beer Recipe. Let us know your favorite.
---