Seasoned, browned chicken slow cooked with lemons and garlic. A wonderful 'fix and forget' recipe that is easy and will please your entire family.

Enjoy!
Lemon Garlic Chicken
Print recipe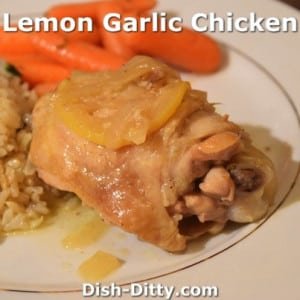 Ingredients
10-12 pieces Bone-In Skin On Chicken Thighs (Value pack)
3 tablespoons Butter
Garlic Salt
Pepper
1 Sweet Onion (thinly sliced)
1 1/2 Lemons (thinly sliced)
Juice from 1 1/2 Lemons
1/2 cup Dry Vermouth
2 heaped tablespoons Minced Garlic (or 5-10 cloves garlic)
Directions
Step 1
Preheat oven to 350 degrees.
Step 2
Sprinkle Garlic Salt & Pepper lightly onto chicken. Heat butter in a Dutch Oven (or any other stove to oven dish with lid). Brown chicken in batches, removing the chicken thighs when they are browned.
Step 3
Once all the chicken is browned, add the onions and thinly sliced lemons. Cook until the onions are soft and light in color.
Step 4
Add the vermouth, juice from the 1 1/2 lemons, and the minced garlic or garlic cloves. Cook for 2 minutes while stirring.
Step 5
Add the chicken back to the pan and toss to coat. Cover and bake at 350 degrees for 45 minutes. Let it rest for about 10 minutes before serving.
---