Trying to reduce your carbs and/or calories? This is the perfect dinner for doing that. Use a low fat spaghetti sauce and put it over steamed broccoli.
Quick Spaghetti Sauce
Print recipe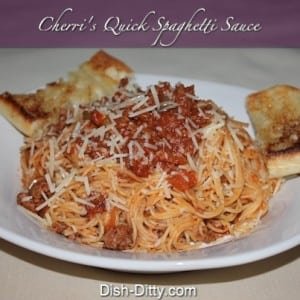 | | |
| --- | --- |
| Serves | 12 |
| Prep time | 15 minutes |
| Cook time | 20 minutes |
| Total time | 35 minutes |
| By author | Dish Ditty via Cherri |
Ingredients
1lb Ground Beef (93% lean)
1 Medium Onion (chopped (about 1.5 cups))
1/4 Bell Pepper (chopped (about 1/2 cup))
3 Whole Garlic Cloves (Chopped)
2 teaspoons Dry Basil
1 tablespoon Dry Oregano
1 can Tomato Paste, 4oz can (Contadina)
3 cans Tomato Sauce, 10oz can (Contadina)
1 teaspoon Sugar
1/2 cup Water
Optional
Directions
Step 1
In large skillet, brown ground beef. If using less than 90% ground beef, drain the excess fat. Add Onion, Bell Pepper, Garlic, Basil, Oregano, and two dashes of salt & pepper. Simmer for two minutes.
Step 2
Add tomato sauce, tomato paste, wine, and sugar. Rinse tomato sauce & paste cans with water and add water to sauce.
Step 3
Cover and simmer for at least 20 minutes. For longer simmering time, add water periodically. Add salt and pepper if needed.
Step 4
Serve warm over pasta.
---
When I started trying to change my lifestyle and move towards a Clean Eating diet, the one thing I worried I'd miss the most was pasta. Yes, I'm a pasta/noodle junkie. Not eating Spaghetti was going to kill me. But, I found a couple ways to have my traditional spaghetti without the traditional noodles. This is one of my favorite substitutions.
To make this work, use any spaghetti sauce (I included my favorite in this article). Steam some broccoli and toss the broccoli with Mizithra cheese and Parmesan Cheese. The pour some sauce over the broccoli and top with more Mizithra and Parmesan. YUMMY! Seriously. You get a low fat, low calorie, high fiber and high flavor dinner. Perfecto!
Other options are to sauté some zucchini, squash, yellow onions, and mixed peppers together with a little garlic salt and pepper. Or, make noodles out of yellow squash or zucchini.  At this point, I'm finding lots of options for my spaghetti fix without having to have noodles.
Enjoy!
---