The key to a good Thai Chicken Curry? Cook the paste first. That's what Mary taught me when she was making her delicious Pangang Curry Chicken for us at or summer BBQ last summer.


Mary's Thai Chicken Curry (Pangang Curry Chicken)
Print recipe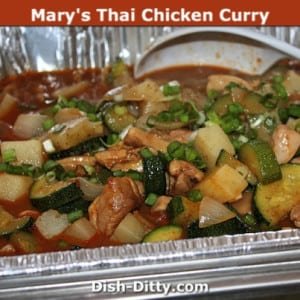 Ingredients
2 tablespoons Oil
1/4 cup Pangang Curry Paste (see picture)
1/4 cup Red Curry Paste (see picture)
1.5lb Chicken Thighs (boneless, cut up)
1/4 cup Water
2 Zucchini (diced)
3 Small White Onion (diced)
2 cups Cooked potato (diced, optional)
1 can Coconut Milk
2 Green Onions (chopped)
Directions
Step 1
Picture of the Red Curry Paste
Step 2
Picture of the Pangang Curry Paste
Step 3
In a large skillet, heat the oil. Add the red curry paste and cook until fragrant. The longer you cook the paste, the spicier it will become. Add 2 tablespoons of the coconut milk.
Step 4
Add the chicken and brown it. Add water as necessary to keep the chicken from becoming too brown, you just want it light brown. Cook until chicken is fully cooked.
Step 5
Add the vegetables and pangang curry paste. Bring to a boil. Reduce and simmer 5 minutes. Add the coconut milk and simmer for 10 minutes. Remove from heat and top with green onions.
---
I'm not sure why it took so long to put this up on the site. Thai Curry is one of my favorites. I loved Mary's tip about increasing the heat (or in my case decreasing the heat). She taught me that the longer you cook the paste without the coconut milk, the spicier it will become. Great tip! I think it also applies to the flavor as well.
Time to try and make some Thai food at home! Enjoy!
---