Learning to live a clean eating lifestyle can be easy with recipes like this. Mushrooms, spinach, pork… YUM! This was filling for me and worked perfect accompanied with scalloped potatoes for my dad.


Pork Medallions with Spinach & Mushrooms
Print recipe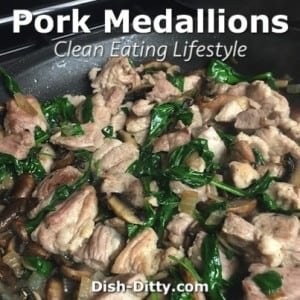 Ingredients
2 tablespoons Butter
3 tablespoons Olive Oil (divided 1 Tbl + 2 Tbl)
1/2 Onion (diced)
8-12oz Mushrooms (Sliced (I used Baby Portabella, but White will work fine))
1/4-1/2 teaspoon Garlic Salt (approx - to taste)
2 dashes Pepper (to taste)
1/2 cup Dry Vermouth (divided)
4-6 cups Fresh Baby Spinach (washed and dried)
1.5lb Boneless Pork Country Style Ribs (cubed, removing excess fat)
Salt & Pepper (to taste)
Note
It is very likely that this meal can be made in one dish, but when I made it, I had a different idea of what I wanted to do, but this dish just happened... Feel free to modify and let me know what you changed.
Note: The butter can be omitted and substituted with Olive Oil if you want to live a completely 'clean' lifestyle. I personally find the butter enhances the flavor and I use sparingly.
Directions
Step 1
In a large skillet, heat 2 tablespoons of butter with 1 tablespoon of olive oil. Add the onions and mushrooms. Sprinkle with garlic salt and black pepper. Cook on medium high, stirring frequently until mushrooms are soft . Add 1/4 cup dry vermouth and cook on medium until the vermouth is cooked down. While you are doing, this continue onto the other steps. Turn off the mushrooms when they are cooked to your liking.
Step 2
In a large skillet, heat 1 tablespoon of butter and 2 tablespoons of oil. Sprinkle salt & pepper on pork medallions. Brown pork in butter/oil mixture. Add 1/4 cup of dry vermouth and cook on medium heat until pork is fully cooked.
Step 3
While the pork is cooking, add the spinach to the mushrooms and cook while the pork is cooking. Once the pork and spinach is cooked, combine and cook for 1-2 minutes. Serve and eat! No need for rice, but it will work well with rice pilaf, mashed potatoes, or really any side dish that you prefer. I eat it just as is.
---
I'm on month 7 of my transformation. If you regularly follow me, you will have noticed that I have fallen off and haven't been posting as much. After 7 months, I've shed 60 pounds and I'm still going strong.
As I head into the holidays, I am trying to stay strong while still giving myself a few controlled 'cheats'. I find that the controlled cheats make it easier for me to say 'No' for those 100's of other times I'm offered foods that will send my scale back up.
This dish, however, is no cheat. It fits my new clean eating lifestyle, is easy to make, and was so filling and delicious.
Enjoy!
---