My mom Cherri's Stewed Zucchini Recipe is one of our family staples for Sunday Dinners. It's easy, quick and holds well on the stove while you wait for the rest of dinner to be served.


Stewed Zucchini
Print recipe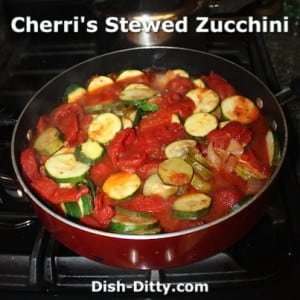 Ingredients
2 tablespoons Olive Oil
1 Yellow Onion (sliced or diced)
5-7 Zucchini (sliced)
2 cans Italian Style Stewed Tomatoes
Salt & Pepper (to taste)
Directions
Step 1
In a large skillet or chicken fryer, heat olive oil. Slice the onions and place in the pan as you slice them. Slice the zucchini, adding to the pan in batches as you slice them. Add the stewed tomatoes, stir, cover and cook on medium for 5-10 minutes or on simmer for 15-20 minutes. Once the zucchini is cooked to your liking, remove from heat and serve. Or, keep covered until ready to serve.
---
Sunday dinners… They are something I really look forward to. As the years have passed, over 5 years since my mom has passed on, my father has tried to keep the Sunday dinner tradition alive. We are not able to have the dinners as often as we used to, mostly because it is a lot of strain on my Dad to have that much activity. But, we still do get together for one Sunday dinner every 4-6 weeks or so.
This recipe was one my mom made regularly. I love it. I used to take the leftovers and put it on pasta. Usually my mom would make this with her Baked Chicken. Or with grilled chicken. Really, she made it frequently.
I don't know the origin of this recipe, but my guess is that it is just something that she made up.
To get the full effect of how my mom made this recipe, picture her with a small paring knife, cutting the onions, then the zucchini, directly into the pan. No cutting boards were spared while making this dish. Actually, I don't remember my mom using cutting boards at all. Always just cutting directly over the pan with her small red paring knife.
For me? I can cut veggies that way, it is how I learned. But, I do prefer to use a cutting board. (Sorry Mom!)
Well, I think you'll find that you will add to this to your regular menu. Enjoy!
---