This chicken is so versatile you can use it in almost any Mexican dinner. Use the Mexican Shredded Chicken Recipe for tacos, burritos, enchiladas, quesadillas and more.


Mexican Shredded Chicken
Print recipe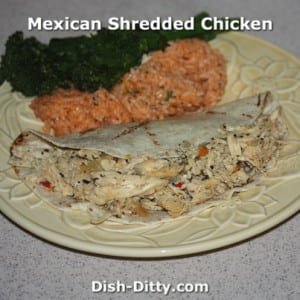 Ingredients
4 Chicken Breast Halves (boneless & skinless)
1/2 Onion (diced)
2 cloves Garlic (minced)
1 tablespoon Salt
Water (to cover)
2 tablespoons Butter
1 can Garlic (minced)
1 Tomato (seeded & chopped)
1/2 cup Mixed Peppers (or Green)
1/2 teaspoon Ground Black Pepper
1 teaspoon Marjoram
2 tablespoons Cilantro Paste (or 1/4 cup fresh chopped fine)
1 1/2 teaspoon Ground Cumin
2 tablespoons Tomato Sauce
1 1/2 teaspoon Salt (to taste)
1/2 cup Chicken Broth (reserved)
Note
This is great for enchiladas, tacos, quesadillas, and even just on it's own with beans and rice.
Directions
Step 1
Place first four ingredients in a pot. Add just enough water to cover the chicken.
Step 2
Bring to a slow boil, cover, and lower heat to maintain a simmer and cook until done, about 20 - 25 minutes. If using a whole chicken; cook approximately 50 - 60 minutes.
Step 3
Remove chicken from pot, let cool and shred. (I cool my chicken in the refrigerator to be safe) If using a whole chicken; remove meat from bones and shred. Reserve broth.
Step 4
In a large pan, melt butter over low heat. Add the remaining ingredients listed, except tomato sauce, salt, and broth. Sauté until soft, about 10 minutes.
Step 5
Stir in shredded chicken and briefly sauté.
Step 6
Add tomato sauce and 1/2 cup of reserved broth. Taste and add salt as needed.
---
I made this a couple of years ago for a friend's Baby Shower which was held on Cinco De Mayo. So, of course we had a Mexican themed party. I made a huge batch of this chicken (about 4x). Some recipes are more difficult when made in large batches, but this recipe didn't take any extra effort to make that large batch.
You can also make it in advance and just reheat it when ready to serve. Even better, it freezes well. Enjoy!
---
Mexican Shredded Chicken [/caption]