When I am in the smoking mood, I smoke almost anything. Veggies are one of those perfect side dishes to cook on your smoker so you won't need to turn on your stove.

Enjoy!

Smoked Veggies
Print recipe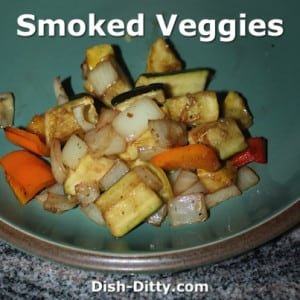 Ingredients
Garlic Olive Oil
Balsamic Vinegar
Garlic Salt
Garlic & Herb Bread Dipping Spice
Any mixed Veggies (onions, carrots, zucchini, yellow squash, etc.)
Directions
Step 1
Cut veggies into chunks as shown in picture. Coat the vegetables with olive oil, balsamic vinegar (light), garlic salt, and Garlic & Herb Bread Dipping Spice. Place on smoker and smoke at 350 for 40 minutes. I placed on a cookie sheet lined with tin foil. Best if you have a grill pan.

There aren't really any measurements for this. Just coat the vegetables with the garlic olive oil. Then lightly sprinkle on some balsamic vinegar and the seasonings. You don't need a lot.
Step 2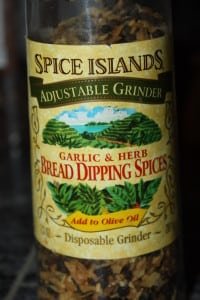 Picture of Seasoning
---