My chia seed obsession continues as I experiment with making jam with no refined sugar and chia seeds.
Mixed Berry Chia Jam
Print recipe
Ingredients
3 cups frozen mixed berries
1 cup water
1/3 cup honey
1/2 cup chia seeds
Directions
Step 1
Bring fruit, water and honey to a boil. Use a potato masher to smash the fruit. Cook on medium heat, at a low boil, for one minute. Add chia seeds and cook, stirring constantly, at a slow boil for 3 minutes. Remove from heat and let cook. Refrigerate.
---
If the berries alone aren't enough fiber for you in your homemade jam, using chia seeds will give you a delicious jam while adding more fiber, omega-3, and protein.
A 1 ounce (28 grams or 2 Tbl) serving of chia seeds contains:
Fiber: 11 grams.
Protein: 4 grams.
Fat: 9 grams (5 of which are Omega-3s).
Calcium: 18% of the RDA.
Manganese: 30% of the RDA.
Magnesium: 30% of the RDA.
Phosphorus: 27% of the RDA.
They also contain a decent amount of Zinc, Vitamin B3 (Niacin), Potassium, Vitamin B1 (Thiamine) and Vitamin B2.
This is particularly impressive when you consider that this is just a single ounce, which supplies only 137 calories and one gram of digestible carbohydrate!
There are a lot of claims about the benefits of chia seeds. Do they help you lose weight? Can it cure cancer? Lower risk of Heart Attack? Reduce risk of diabetes? I really don't know if there's any truth to any of the claims. But the one thing is certain: It will help you boost your fiber intake while giving you a healthy protein boost. Nothing wrong with that!
Now that my obsession is in full force, I've made tons of chia seed pudding, put the chia seeds in my overnight oats, and added them to juice. The next obvious step is to make jam.
There are two types of chia jam that I found. The uncooked kind where you blend fresh fruit with the chia seeds and let it set. I decided to try a cooked version first. Mostly because I think the flavor of the cooked fruit will taste closer to a traditional jam recipe and not just a thick smoothie (which is what I envision when I read the no-cook recipes).
Well, my first try of making chia jam was too watery for use as a jam. Even so, it was really good and made a delicious berry sauce that I added on top of my vanilla chia seed pudding. For this sauce, use 1/3 cup chia seeds instead of 1/2 cup as directed in the recipe.
My second batch was too thick and just didn't have as much flavor. My third batch? Perfect!
When making this, I used the Kirkland brand of mixed frozen berries from Costco. It's a mix of rasberries, black berries, and blueberries. They sell similar items at most grocery stores.
If you are ready to try something new, this should be on your list.
Enjoy!
And here's the recipe for the vanilla chia seed pudding.
---
Chia Seed Pudding
Print recipe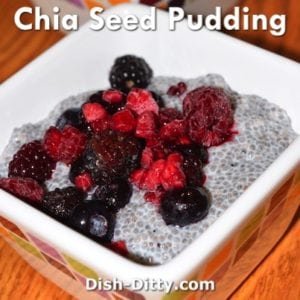 Ingredients
1 cup unsweetened almond coconut milk (or any milk of your choice)
1/3 cup chia seeds
2 tablespoons honey
1/2 teaspoon vanilla (optional)
Directions
Step 1
Combine the honey with the milk and make sure it is mixed in completely. You can warm up the honey to make this easier or you can blend it together. Or, just use a whisk like I did.
Step 2
Add the vanilla and chia seeds and stir well to combine. Cover and set aside for 10 minutes to let the chia seeds to start to soften.
Step 3
Stir again and be sure to get all the chia seeds from the bottom mixed in. Refrigerate for at least 6 hours.
Step 4
Serve topped with fresh berries.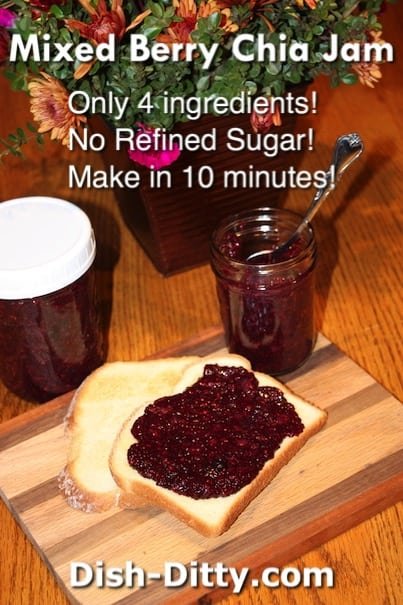 ---