This No Churn Cookies & Cream Ice Cream is definitely not low fat or low sugar, but it is full of flavor and the easiest ice cream to make ever. I am not joking when I say easy. Just 4 simple ingredients make this fab dessert.
No Churn Cookies & Cream Ice Cream
Print recipe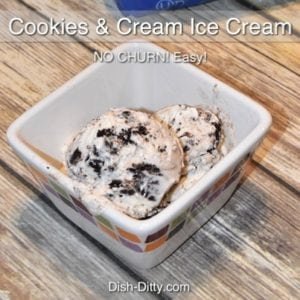 Ingredients
2 cups heavy whipping cream (cold)
1 can sweetened condensed milk
1 tablespoon vanilla extract
1/2-1 cup Oreo pieces (roughly crushed, some chunks and some well crushed)
Directions
Step 1
Using a mixer, whip together the heavy cream and the evaporated milk. Start on a medium speed and increase speed as the mixture starts to thicken. If you start at a high speed right away, you will just get a lot of splatter. Once you get it to a high speed without splattering, beat for about 30-90 seconds, or until the mixture is thick and can hold it's shape (stiff peaks). Add the vanilla and the crushed Oreos. Place in freezer safe container, and freeze for at least 4 hours.
---
Beat the heat and delight your taste buds with this No-Churn Cookies and Cream Ice Cream Recipe, an easy and satisfying homemade dessert.
There's something particularly satisfying about making your own ice cream, and this No-Churn Cookies and Cream Ice Cream recipe takes that satisfaction to a whole new level. No complex equipment, no tedious churning – just a simple, delicious ice cream recipe that you can make right in your kitchen.
Making no-churn ice cream is a straightforward process, but when you add cookies into the mix, you're in for a real treat. This homemade Cookies and Cream Ice Cream recipe perfectly balances the sweetness of the cream with the crunchy, slightly bitter notes of the cookies. The end result is a quick dessert recipe that's as delightful to make as it is to eat.
For anyone who's ever wondered how to make no-churn ice cream, this article provides an easy guide to follow. The recipe is broken down into clear, manageable steps that are suitable for both beginner and experienced home cooks. Whether you're looking for a way to cool down on a hot day or a unique dessert to share with family and friends, this DIY ice cream is sure to impress.
Embark on a culinary adventure with this No-Churn Cookies and Cream Ice Cream Recipe. Fun, flavorful, and easy to make – it's everything a homemade dessert should be.
Enjoy!