If you are looking for an ice cream recipe that has no sugar added, this is the recipe for you. This Chocolate Banana Soft Serve Ice Cream is super creamy, sweet and tastes just like chocolate soft serve ice cream.
Chocolate Banana Soft Serve Ice Cream
Print recipe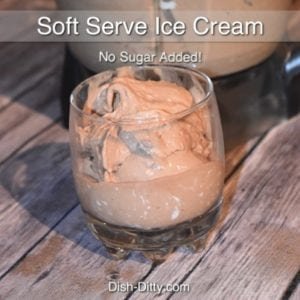 Ingredients
2 1/2 cups frozen bananas
1/2 cup heavy whipping cream
1 dash salt
1 teaspoon vanilla extract
1 heaped tablespoon cocoa powder
Directions
Step 1
Combine all ingredients into a food processor and process until smooth, scraping down the sides occasionally. Serve immediately for a smooth and creamy soft serve ice cream.
---
There's quite a few recipes out there that use bananas only to create an ice cream. The method there is to take ripe bananas, puree them and then freeze it to come up with an ice cream. I've tried the plain version of that and found that it just tasted like bananas and didn't have much of an ice cream flavor to me.
There's something to be said for the actual cream in ice cream. Without cream, then it's a frozen dessert. So, I took a couple different concept desserts and created this recipe. It is not low fat (sorry!) but it is the best no-sugar-added ice cream I have had. No need for artificial sweeteners either. All the sweetness comes from the bananas.
If you are looking for a paleo recipe, substitute the heavy whipping cream with the cream from a can of coconut (it floats on the top, just use the white cream not the clear liquid). Coconut milk from the grocery store refrigerated section won't be the same.
Anyways, with no further ado, here's this incredible ice cream that can be made in minutes…
Enjoy!