Keeping on the fresh trend, this Spinach Quinoa Salad Recipe is fresh, light, and super filling. I served it to my family for Sunday dinner and I was surprised how many liked it. Even my Dad! I thought for sure I was going to be the only one who even tried it, but it was a hit!
Spinach Quinoa Salad
Print recipe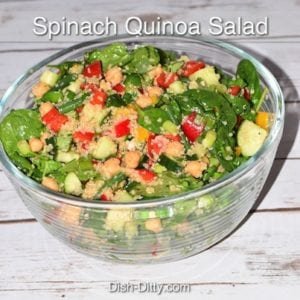 Ingredients
1 1/2 cup cooked quinoa (follow package instructions for cooking)
1 bunch cilantro (chopped)
1/2 bunch green onions (chopped)
1 red bell pepper (diced)
1 yellow bell pepper (diced)
2 cups cooked green beans (cooled and cut into 1)
1/2 carton cherry tomatoes (quartered)
1 english cudumber (diced)
1 can garbanzo beans (rinsed and drained)
1 lime
5 tablespoons olive oil
3 tablespoons seasoned rice wine vinegar
fresh ground sea salt (to taste)
fresh ground pepper (to taste)
3 cups baby raw spinache
Directions
Step 1
Combine quinoa, cilantro, green onions, bell peppers, green beans, cherry tomatoes, cucumbers and garbanzo beans. Toss with the lime, olive oil and rice wine vinegar. Add a couple of grinds of sea salt and black pepper. Toss with the spinach. Taste and add more salt & pepper as needed. Serve immediately, or refrigerate and serve within 6 hours.

The salad won't hold well with the spinach for much more than that. If you want to make ahead, toss everything together except the spinach. Add the spinach just before serving. When serving this way, you may want to add a little olive oil and vinegar as well when tossing in the spinach.
---
For our family Sunday dinners, we always have a salad. For 20+ years, we would just have a boring green salad with a bunch of bottled salad dressings available. When having the salad that way, it seemed like less and less people were having salad as part of their dinner.
Once my Mom passed, we started assigning the salad to other family/friends who were coming to dinner. Sometimes we would get the simple salad, and sometimes we would be treated to a specialty salad or homemade salad dressing (thanks Corina!). Other times, it seemed like the best thing to serve that would always be eaten up was just the bagged Caesar Salad.
A couple weeks ago, my sis put me in charge of salad (along with something else that I can't remember now). For some reason, that week I had seen tons of different salads on my FB/IG feeds. Most of them had quinoa in them. I have never cooked with quinoa and usually don't even eat it. But, I remember eating a salad on my trip to London in January and loving it. I wasn't sure if it was because I was starved, or if it really was good. That salad also had beets, which I didn't think I was a fan of. But, it was amazing.
So, with all that in mind, I read up on a couple of quinoa salads, and decided to just make my own with the ingredients I had in the refrigerator. The one thing I cannot stress enough is to follow the instructions on the box of quinoa. Give yourself an hour or more to cook the quinoa and let it cool before using it in your salad. Also, before cooking it, be sure to fully rinse it. Again, the instructions on the quinoa should be thorough, so just be sure to read them and give yourself some time. Maybe even make the quinoa a day ahead so it's ready to go when you want to make the salad.
So, anyways, my ramble is over. This is the salad that I came up with that everyone devoured as if it was a Caesar Salad.
Enjoy!