I'm addicted to trying to make my favorite foods low in sugar and gluten free. These aren't quite low in sugar, but I nailed the gluten free goal. So delicious and warm, these Almost Clean Gluten Free Brownies will make your day.
Almost Clean Gluten Free Brownies
Print recipe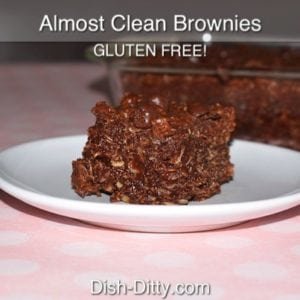 Ingredients
1 cup honey
1 1/2 cup creamy peanut butter
2 cups semi-sweet chocolate chips (divided 1 3/4 cup + 1/4 cup)
1 tablespoon vanilla extract
2 large eggs
2 cups ground golden flax seed
3 cups old fashioned oats
Directions
Step 1
Preheat oven to 350 degrees.
Step 2
In a large saucepan, heat honey and creamy peanut butter together until the mixture is smooth and warm. Remove from heat. Stir in chocolate chips and mix until chocolate chips are melted and mixed in well. Turn on heat if needed, but keep it slow as to not burn the chocolate. Add the vanilla extract and stir in. Add eggs one at a time, stirring well. Slowly add the flax seed and oats, stirring well as you go.
Step 3
Spray 9x13 pan with pam and add brownie mixture. Bake at 350 degrees for 32-38 minutes, or until the center is cooked. Remove from heat and let cool for 20-30 minutes. Serve warm for the best results.
---
I loved these… so delicious when warm. Oh so good.
I haven't been as good as I should be at staying 'clean eating', this is a blend of clean and not so clean. Which is where the 'almost' comes into play. With the only refined sugar coming from the semi-sweet chocolate chips, it's a good alternative to the traditional brownies.
Enjoy!