This is my favorite way to make pork chops. Super easy and great for a weeknight meal.
Onion Smothered Pork Chops
Print recipe
| | |
| --- | --- |
| Serves | 4 |
| Prep time | 5 minutes |
| Cook time | 25 minutes |
| Total time | 30 minutes |
| By author | Dish Ditty |
This is my favorite way to make pork chops. Super easy and great for a weeknight meal.
Ingredients
4 Bone-in Pork Chops
Salt & Pepper
1-2 tablespoon Oil
1 1/2 cup Onions, red (pictured) or yellow (sliced)
1/2 tablespoon Marjoram
1/2 cup Dry Vermouth
1 cup Chicken Broth
1 tablespoon Cornstarch
1/2 cup Chicken Broth
Directions
Step 1
Preheat oven to 325 degrees.
Step 2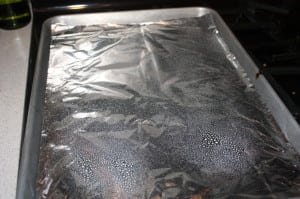 Line a baking sheet with tinfoil and spray with pam. Place in oven.
Step 3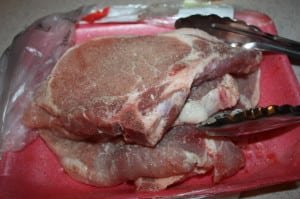 Season pork chops with salt & pepper. Just a shake or two per side.
Step 4
In a large skillet heat skillet on high with 1 Tablespoon of oil.
Step 5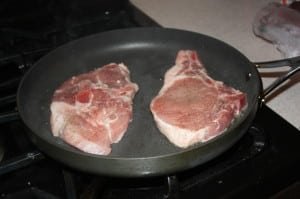 Add Pork chops to hot skillet, being sure to leave at least 1/2 inch around each chop to allow them to cook properly.

Do not move the pork chops around. Cook it on high for about 2 minutes, or until it is golden brown on the first side. Again, to check, just lift it up a little, no need to move it around.
Step 6
Flip the pork chop and cook the 2nd side until it is lightly browned, just like the first.
Step 7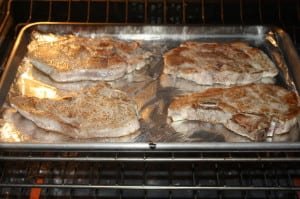 Once the pork chops are browned, put in the oven on top of the heated tin foil. Cook additional pork chops using the above steps.
Step 8
Once all the pork chops are cooked, using the same pan (without cleaning it), add the onions and cook on high until the onions are browned. I chose to use a mixture of red and yellow onions.
Step 9
To the onion mixture, add the Marjoram and dry vermouth. Cook on high until the liquid is mostly gone.

Add 1 cup of chicken broth and bring to a boil. Reduce heat and simmer until the pork chops are ready, that will be about 10 minutes. Pork chops are done when they reach 145 degrees.
Step 10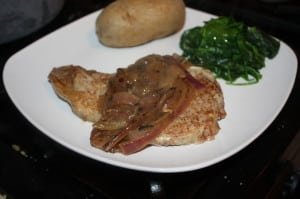 Remove pork chops from the oven and set aside. To thicken the gravy, take 1/2 cup of cold chicken broth and mix in 1 Tablespoon of cornstarch.

Bring the onion mixture to a boil and slowly add cornstarch and broth mixture. Boil on medium for at least one minute. Remove from heat and serve over pork chops.