Many many years ago, my husband and I took a real vacation and went to Jamaica. One of the most relaxing vacations we have ever taken. We both got hooked on this Jamaican specialty. It's a curried ground beef mixture in a flakey pastry shell. So amazing that I had to come home and make them myself. After several different internet recipes, and many adjustments, I finally came up with a Jamaican beef pie that matched those we had at Sandals Negril's beach resort so many years ago.
These are something you'll want to make on the weekend, as they do take a little time. But, you can freeze them uncooked or cooked and the filling can be used wrapped inside pizza dough, crescent rolls, or even with a tortilla and cheese for a delicious quesadilla. Yep, with the leftover meat, I've mixed it with many things.
Jamaican Beef Pies
Print recipe
| | |
| --- | --- |
| Serves | 12 |
| Prep time | 30 minutes |
| Cook time | 35 minutes |
| Total time | 1 hours, 5 minutes |
| By author | Dish Ditty |
This Jamaican beef pie is one that matches those we had at Sandals Negril's Beach Resort on our vacation many years ago. Curried ground beef wrapped in a flaky curried pastry crust.
Ingredients
Make the Dough
3 cups All Purpose Flour
1 teaspoon Salt
1/2 teaspoon Curry Powder
1 cup Shortening or Butter
3/4 cups Water (iced)
1 tablespoon Vinegar
2 Egg Yolks
Put it together
1 Egg Wash (1 egg beaten with 1/4 cup water)
Pam
Make the Beef Filling
1 Onion (Medium chopped fine)
1 tablespoon Minced Garlic
1/2 teaspoon Cumin Seed
1lb Ground Beef (93% lean)
4 Green Onions (chopped fine)
1 tablespoon Fresh Thyme (chopped fine)
1 cup Beef Broth
1/2 teaspoon Curry Powder
1/2 teaspoon Turmeric
1 cup Breadcrumbs (Plain)
Salt & Pepper to taste
1 tablespoon Butter
Make the Beef Filling (Optional)
1 Habanero Chile* (chopped fine)
Note
These can be frozen raw or cooked.
Can be microwaved, but will taste better reheated in the toaster oven.
Have leftover filling? Wrap it inside pizza dough or crescent rolls and bake. Or, make it inside a quesadilla with cheese and tortilla.
Directions
Make the Beef Filling
Step 1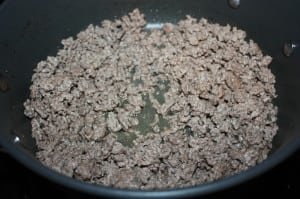 In a large skillet, brown the ground beef. Drain most of the oil, leaving about 1 Tbl.
Step 2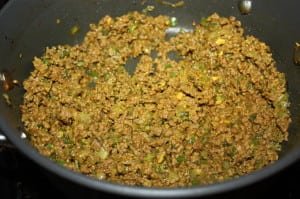 In the same skillet with the beef, add garlic, onions, and pepper. Cook until onions are slightly translucent. Add seasonings: thyme and curry. Cook for about 2-3 minutes.
Step 3
Add beef broth and bring to a boil. Reduce heat and simmer for 20 minutes (adding water if necessary).

Remove from heat. Add breadcrumbs and butter and mix well. Taste, adding salt and pepper if needed. Set aside to cool. It takes about 30 minutes to cool. Make the dough while you wait.
Make the Dough
Step 4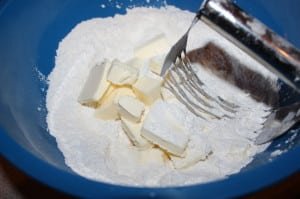 Combine flour, salt, turmeric, and curry powder in a large bowl and mix well. Add the shortening and using a pastry blender or two forks, cut the shortening into the flour mixture.
Step 5
This is what it should look like after cutting the shortening into the flour.
Step 6
In a separate bowl, combine water, vinegar, and egg yolks.
Step 7
Add wet mixture to the bowl, and with your hands, mix until a ball forms. Be sure not to over mix. You just want to mix it until it comes together. Cover the dough with plastic wrap and let rest in the refrigerator for at least 1/2 hour.
Put it together
Step 8
After your dough has rested and your filling has cooled, preheat oven to 375 degrees.
Step 9
Roll the dough out to 1/8". Cut into circles. I use a Tupperware bowl as my pastry cutter.
Step 10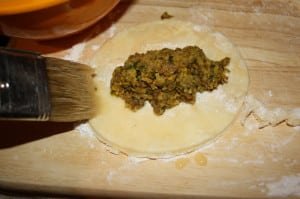 Place filling in center of dough circle. You will want enough to make it full but not so much that you can't close it. Using a pastry brush, brush the edges with the egg wash mixture.
Step 11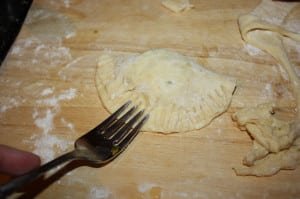 Fold over in half and using a fork, pinch the edges to seal.
Step 12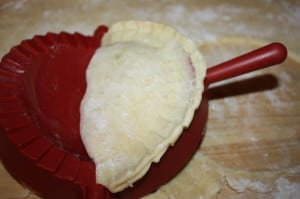 Or alternately, if you have a pastry press, use that instead.
Step 13
Place on baking sheet lined with tin foil and sprayed with Pam, making sure to leave room around each pie.
Step 14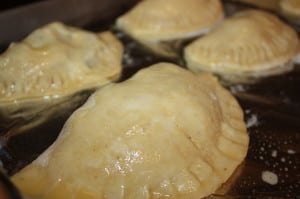 Brush each pie with egg wash mixture.
Step 15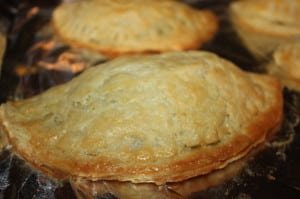 Bake at 375 degrees for 25-35 minutes or until golden brown. Remove from oven and serve.