Use this Poultry Injector Marinade Recipe whenever grilling or roasting your poultry. Using an injector marinade will tenderize your chicken and season it from the inside out.
This basic recipe can be modified to change the flavor based on your needs. You can do italian, mexican, teriyaki, garlic, and others. Try this yourself and you will be pleasantly surprised.
Poultry Injector Marinade
Print recipe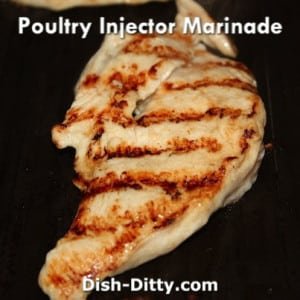 Ingredients
1.5 cups Chicken Broth
1/2 teaspoon Black Pepper Corns
1 teaspoon Garlic Salt
2 tablespoons Butter
2 tablespoons Honey
1/2 cup Water
Directions
Step 1
Combine above ingredients in small sauce pan and bring to a boil. Boil for 1 minute. Remove from heat, remove the peppercorns, and cool completely before injecting poultry. Refrigerate unused marinade. When injecting any meat, throw away any marinade that has touched the injector needle as it will contaminate the marinade with raw meat which can be dangerous.

Step 2
When using any dried seasonings that do not completely dissolve, be sure to strain the marinade before trying to use with injector. Otherwise you might clog the needle.