HAPPY THANKSGIVING! Need a last minute healthy Thanksgiving dessert? One that tastes like the holidays but is vegan and full of protein and fiber? This Pumpkin Pie Chia Pudding Recipe is just what you're looking for.
Pumpkin Pie Chia Pudding
Print recipe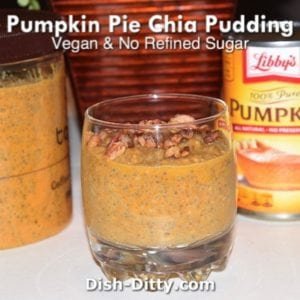 Ingredients
1 1/2 cup almond milk
1/3 cup chia seeds
1/2 cup pumpkin puree
2 tablespoons maple syrup
1 teaspoon vanilla
1 teaspoon pumpkin pie spice
1/8 teaspoon salt
Directions
Step 1
In a small bowl, combine almond milk and chia seeds. Combine using a whisk to make sure the chia seeds are well distributed. Set aside.
Step 2
In a second medium sized bowl, combine the remaining ingredients. Stir well to combine.
Step 3
Using a whisk, blend the chia seeds and milk mixture to make sure the chia seeds are well distributed. Combine the milk and pumpkin mixtures together, using the whisk to make sure it's well combined. Refrigerate for 4-6 hours before serving.
Step 4
Top with candied pecans, walnuts, or whipped cream (coconut whipped cream if you want a vegan dessert).
---
Well, maybe not what you're looking for, but what you need. I am trying to be good this Thanksgiving, so I looked for something that I could think of as a 'treat' without all the 'bad'. With my current chia seed obsession, it was obvious what I needed to do.
I started where I always do, with a search on Google. I found lots of recipes, but none that seemed quite right. So, I used a couple as inspiration, and tested my idea. A little adjustment and I had something that I could bring to my Dad's for Thanksgiving dinner.
I am sure I'll be the only one who turns down pumpkin pie, pecan pie, lime meringue pie and berry pie. My dad will look at me like I'm nuts, my sister will laugh at me, and I will sit smiling knowing that I have something for me.
So, if you are adventurous and really trying to be healthy today, go for it! It's so easy to make. Come on… Try something new. Enjoy!