My Dad's Nob Hill recently closed down, which was one of the last in our area. This seasoning blend that he had from them was one of his goto staples, and he asked me to recreate it. I think it was a success.
Restaurant Blend Seasoning
Print recipe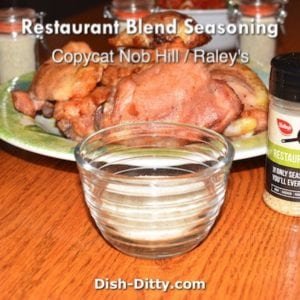 Ingredients
2 tablespoons salt
1 tablespoon granulated garlic
1 tablespoon granulated onion
1 teaspoon ground black pepper
1 teaspoon celery salt
1 teaspoon sugar
Directions
Step 1
Combine all ingredients and mix well. Use on chicken, pork, seafood and vegetables.
---
From Nob Hill, the Raley's brand "Restaurant Blend Seasoning" stated "The Only Seasoning You'll Ever Need". Well, I wouldn't go that far, but it is a very good overall seasoning. Just use on chicken with nothing else (as pictured) and either grill or roast in the oven, and you'll get a delicious chicken every time.
Another use for this seasoning is on green beans, or other vegetables. Just stir fry with a little oil and add this seasoning for a simple yet flavorful vegetable.