This is one of my favorite potato recipes. This Rosemary Garlic Roasted Potatoes Recipe can be made with any kind of potato, including sweet potatoes. Perfect for a small family dinner, or for a large gathering.
Rosemary Garlic Roasted Potatoes
Print recipe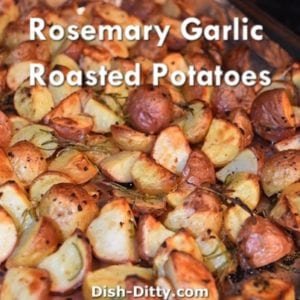 Ingredients
2.5lb white baby potatoes (washed and quartered)
1/4 cup garlic olive oil
1 1/2 teaspoon garlic salt
1 teaspoon black pepper
1 tablespoon rosemary (dried or 2 tsp fresh)
Directions
Step 1
Preheat oven on roast setting for 400 degrees.
Step 2
Combine all ingredients, tossing to coat well and to distribute the spices evenly. Place on a cookie sheet lined with aluminum foil. Lay potatoes onto the cookie sheet, laying flat and in a single layer. Place in oven, and roast until potatoes are golden brown, it will take about 30-45 minutes (depends on the size of the potatoes and type of oven). Remove from oven and serve hot.
---
I have a couple of go to recipes, and this is one of them. I vary the spices sometimes, the type of oil, and even the type of salt and pepper. But the basic recipe is just simply oil, salt pepper, seasoning and roast. You want the oven on the hotter side (400 degrees) so that the potatoes will brown. Too low of an oven temperature, and they will get soft without browning.
Anyways, here's the recipe. Super simple and versatile.