Holidays and food… they pair so well. Sweet potatoes don't need more sugar to make them delicious. These Savory Garlic Roasted Sweet Potatoes are a wonderful pairing to any meal.
Savory Garlic Roasted Sweet Potatoes
Print recipe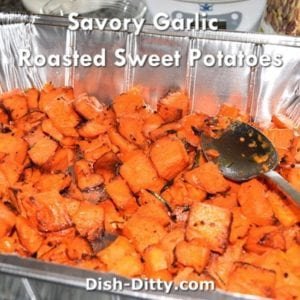 Ingredients
4 cups sweet potatoes (peeled, cubed)
1/4 cup garlic olive oil
1/4 bunch fresh thyem
2 sprigs fresh rosemary
1 tablespoon garlic (minced)
sea salt
fresh ground pepper
Directions
Step 1
Toss sweet potatoes with olive oil. Mix in thyme, rosemary and garlic. Sprinkle with salt and pepper. Roast at 425 for 25-30 minutes, or until the potatoes start to brown.
---