This is a great alternative to standard sweet & sour sauce.  A little spicy and sweet, it will go great with fried wontons of any kind, especially shrimp.
Spicy Mango Wonton Dip
Print recipe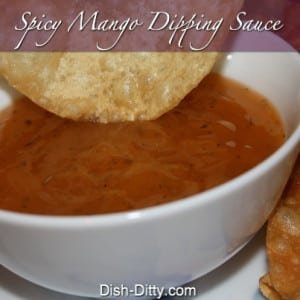 A fun, spicy, and fruity alternative to sweet & sour dipping sauce. Great served with wonton chips or fried wontons.
Ingredients
1 1/2 cup Orange Mango Juice
1 teaspoon Tabasco
2 teaspoons Hidden Valley Ranch Dip Seasoning
1 tablespoon Extra Dry Vermouth
1 1/2 tablespoon Sugar
1 teaspoon White Vinegar
1 tablespoon Cornstarch
Note
If you want this dip spicier, increase the Tabasco to 2 tsp and reduce the vinegar to 1/2 tsp.
Directions
Step 1
Combine all ingredients in a small saucepan and whisk together to make sure all of the cornstarch is incorporated. Stirring constantly, cook on medium heat until mixture comes to a boil. Boil for 1 minute, still stirring constantly. Remove from heat and cool. Serve with fried wontons or egg rolls.