One of my all time favorite Iranian Dishes is Zareshk Polo Morgh. Essentially it's Basamati rice, topped with Saffron rice, topped with barberries and then this delicious stewed chicken. This recipe is that stewed chicken, and it is so tender and flavorful. Ah, such simple pleasures in life.


Stewed Chicken Iranian Style
Print recipe
Ingredients
2 tablespoons tomato paste
1+ tablespoon olive oil
1 teaspoon turmeric
2 tablespoons butter
1 small onion
salt & pepper
1 cup water
optional
1/8 teaspoon saffron
2 ice cubes
Note
If you don't have the saffron, don't worry, just leave it out. The dish will still be delicious!
Directions
Step 1
Liquify the saffron. Crush the saffron and place on ice cubes. Let the ice melt and the saffron will dissolve while the ice melts. Let it sit at room temperature for about an hour.
Step 2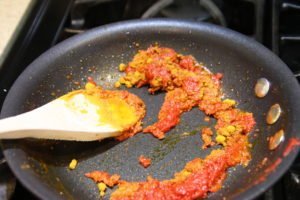 In a small sauce pan, heat olive oil with the tomato paste. Cook for about 30 seconds. Add the 1 tsp of turmeric and cook for another minute or so to fully dissolve the turmeric and the tomato starts to darken. Remove from heat and set aside.
Step 3
Set instant pot to sauté and add 2 Tbl of butter. Add the onion and cook until fragrant and soft. Do not brown the onions. Remove and set aside.
Step 4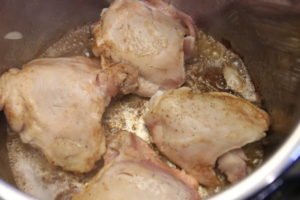 Salt and pepper the chicken. Add a little olive oil to the instant pot and brown the chicken in small batches, removing when brown.
Step 5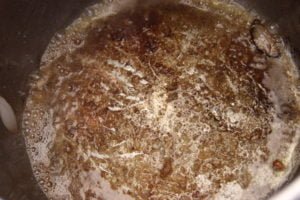 The bottom of the instant pot pan may have brown bits on the bottom. That's great, it's all good flavor.
Step 6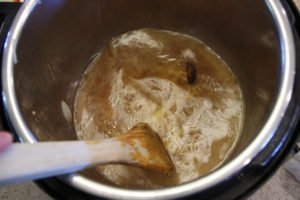 Add 1 cup of water to the pan and scrape up the brown bits using a wooden spoon.
Step 7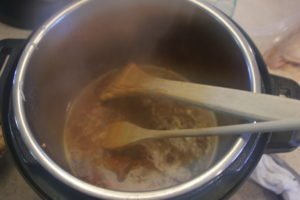 Add the tomato paste mixture and saffron mixture and mix until dissolved.
Step 8
Add back all the remaining ingredients and stir.
Step 9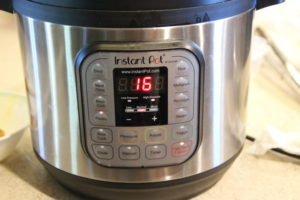 Close the lid, and set to 16 minutes if using natural release. 20 minutes if fast release.
Step 10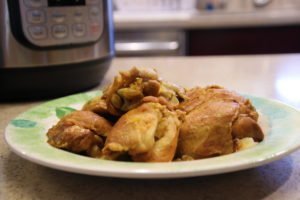 That's it, remove and serve over rice, using the liquid to flavor the rice as desired.
---
Yes, I have been known to try to recreate my favorite dishes from restaurants. This recipe is no exception. Going to Persian restaurants, my all time favorite is Zareshk Polo. I think I'm the only one in my family who just loves it. I'll choose it over Koobideh any day.
So, I recreate it for home. It's not as good without the soft billowy basamati saffron rice and tart barberries, but it sure does feel like comfort food.
Enjoy!