Experience the irresistible fusion of smoky flavors and Korean culinary tradition with our Smoked Beef Short Ribs – Korean Kalbi Style recipe. These tender and flavorful ribs, infused with the bold and savory kalbi marinade, will transport you to the vibrant streets of Korea and delight your taste buds with every bite.
Smoked Beef Short Ribs
Print recipe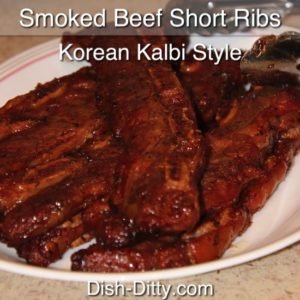 Ingredients
1 cup lemonade or lemon-lime soda (either will work)
1 cup soy sauce
1 tablespoon minced garlic
1 tablespoon grated ginger
2 tablespoons cilantro paste (or 1/4 cup fresh cilantro)
1 tablespoon sesame oil
1/4 cup Mirin (or use Chinese Rice Wine)
2 tablespoons fish sauce (substitute with soy sauce if you don't have this)
1 cup fruit (asian pears, mangoes, or apples)
1/2 bunch green onions
1 1/4 cup brown sugar
12 beef short ribs (bone in)
Directions
Step 1
Except for the short ribs, use a food processor or blender and blend all ingredients together until smooth. Marinade short ribs over night or up to 3 days. You can place flat in a dish and pour the marinade over, or put in a ziplock bag.
Step 2
Set smoker to 325 degrees. Drain excess liquid and add the short ribs to the smoker, leaving room between each. Smoke at 325 for 15 minutes, flip and smoke for 10 minutes. Flip and smoke for 5-15 minutes (depending on how well you like your beef cooked).
---
Savor the mouthwatering flavors of our Smoked Beef Short Ribs – Korean Kalbi Style recipe. This tantalizing dish combines the rich smokiness of perfectly cooked beef short ribs with the bold and savory flavors of Korean kalbi marinade. Our easy-to-follow recipe will guide you through the steps of creating tender and flavorful smoked ribs that will transport your taste buds to the vibrant streets of Korea.
With our Smoked Beef Short Ribs recipe, you can experience the best of both worlds – the mouthwatering tenderness of smoked ribs and the irresistible umami of Korean kalbi-style marinade. The slow smoking process infuses the meat with a smoky aroma and a melt-in-your-mouth texture, while the marinade adds a delightful depth of flavor. The result is a dish that is sure to impress both barbecue enthusiasts and fans of Korean cuisine.
Prepare to be amazed by the explosion of flavors when you bite into our Smoked Beef Short Ribs – Korean Kalbi Style. The tender meat, infused with smokiness and the tantalizing marinade, creates a symphony of taste that will leave you craving for more. Whether you're hosting a backyard barbecue or simply looking to elevate your grilling game, our recipe for smoked beef short ribs is a must-try.
Unlock the secrets of Korean cuisine with our Smoked Beef Short Ribs – Korean Kalbi Style. The combination of smoky flavors and the distinctive tang of the kalbi-style marinade creates a harmony of taste that will transport you to the bustling streets of Korea. Impress your family and friends with this show-stopping dish that brings together the best of barbecue and Korean culinary traditions. Get ready to indulge in a feast of smoky, tender, and irresistibly flavorful beef short ribs.
One of my son's favorite things to order when we are out is Korean Short Ribs, Kalbi. When my husband and I saw the ribs at Costco, we couldn't resist. So here's my smoked version of this traditional Korean dish.
I've made Kalbi once before, but it was a little different since I made them inside and turned them into a sandwich. This is closer to traditional Kabli. When looking up the recipe online, I compared my previous recipe and recipes I've found online. The one thing I found was that most of the recipes use Asian pears. How often do you have asian pears sitting around?
So, no asian pears for me, but I did have mango chunks in the freezer. So, viola! that's what I used (oh and it worked on my earlier recipe as well). I didn't use as much as before so the mango flavor really wasn't too strong.
Next, a lot of the recipes called for a lemon-lime soda. Well, again, did I have that? Nope! But my husband had just made some Lemonade. What do you think I did? Yep, I used the lemonade.
Ok, so as you an see, I am a bundle of substitutions. Still was amazing and flavorful and so tender.
I hope you try it. You don't have to use the smoker. You can grill or use the oven (roast or broil). If you use a grill, you will want to have a watchful eye as they will flare up due to the sugars and fat.
There you have it. I'm not much for words today. Enjoy!!!