Inspiration comes from many places, this is one of those recipes that was inspired by watching the Julie & Julia movie. Inspired by Julia Child's Beef Bourguignon Recipe, this recipe is designed to be made on a weeknight on the stove, without too much fuss.
Modification with simiplification. This may not be quite as amazing as Julia's recipe, but my whole family loved it and it was added to the 'must make again' list.
Stovetop Creamy Beef Bourguignon
Print recipe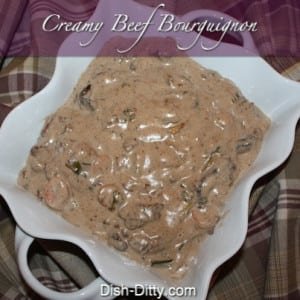 | | |
| --- | --- |
| Serves | 6 |
| Prep time | 10 minutes |
| Cook time | 30 minutes |
| Total time | 40 minutes |
| By author | Dish Ditty |
Ingredients
2 tablespoons Garlic Olive Oil
1 bunch Green Onions (diced)
1 cup Portobello Mushrooms (cooked, diced)
3/4lb Beef (sliced (any marbled meat))
1/4 teaspoon Garlic Salt
1/4 teaspoon Paprika
1/8 teaspoon Black Pepper
1/2 teaspoon Ground Yellow Mustard
2 tablespoons Better than Bouillon Beef
3/4 cups Red Wine
1/2 cup Carrots (cooked, diced)
2 tablespoons Cornstarch
2 tablespoons Water
1 cup Sour cream (optional)
1lb Egg Noodles (cooked)
Note
This is a dish that uses leftover cooked carrots and mushrooms.  If you do not have cooked carrots and mushrooms, just cook on the stovetop before starting this dish.
Directions
Step 1
Heat olive oil in large pan on medium heat. Add green onions and sliced mushrooms. Cook for about 2 minutes or until green onions are wilted.
Step 2
Mix together the beef with garlic salt, paprika and black pepper. Add to the hot pan and cook for several minutes, until beef is browned.
Step 3
Add the mustard, beef bouillon, red wine, and carrots. Cook until bubbly. Reduce heat, cover, and simmer for 20 minutes.
Step 4
Mix together cornstarch and water. Slowly add to the beef mixture, stirring constantly. Bring back to a boil to thicken.
Step 5
Add the sour cream (optional, can be omitted and it will still be amazing), bring just to a boil. Remove from heat and serve over noodles.