I love my mom's Special Chicken recipe, but sometimes I don't want to heat up the whole house or I want to make it a little faster. This Stovetop Special Chicken version is just as delicious, making it easier to make one of my favorite recipes year round.

Stovetop Special Chicken
Print recipe
| | |
| --- | --- |
| Serves | 4-8 |
| Prep time | 5 minutes |
| Cook time | 1 hour |
| Total time | 1 hour, 5 minutes |
| By author | Dish Ditty |
Ingredients
3 Slices of Bacon
8-10 Boneless Skinless Chicken Thighs
Black Pepper
1/4 cup Dry Vermouth (optional)
1/2 cup Chicken Broth (low sodium)
2 cans Cream of Mushroom Soup
1 cup Sour Cream
Directions
Step 1
Cook bacon until crispy. Remove and place on paper towel to drain and remove excess oil.
Step 2
Pour out most of the bacon fat leaving a couple tablespoons behind to brown the chicken.
Step 3
Season the chicken with pepper (no need for salt, there is already a lot of salt in the soups). Using the same pan you cooked the bacon, cook the chicken on medium-high heat until both sides are browned.
Step 4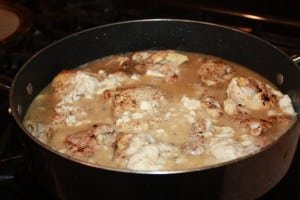 Add the vermouth (optional), chicken broth, and cream of mushroom soup on top of the chicken. Stir to combine and cook on medium high until it starts to boil. Reduce heat to a simmer and cook for 30 minutes (covered or uncovered).
Step 5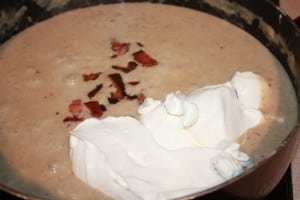 Remove the chicken from the sauce and set aside. Add sour cream and about 1 bacon, crumbled, to the sauce. Stirring and increasing the temperature again to a medium, bring the sauce mixture just to a boil.
Step 6
Remove the sauce from the heat and serve the chicken and sauce over white rice or mashed potatoes. Top with crumbled cooked bacon.