This Strawberry Banana Soft Serve Frozen Yogurt Recipe takes just a couple of minutes and 3 easy ingredients. No sugar added, just Bananas, Strawberries and Yogurt. That's it! I'm in heaven!
Strawberry Banana Soft Serve Frozen Yogurt
Print recipe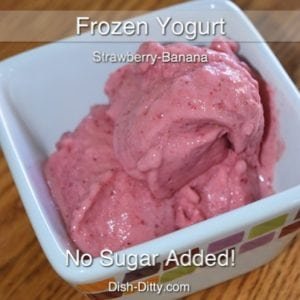 Ingredients
1 1/2 cup frozen ripe bananas
2 cups frozen strawberries
2/3 cups plain yogurt
Note
I used Mountain High Plain Yogurt (regular fat).
Directions
Step 1
Place all ingredients in a food processor. Process for about 30 seconds, scrape down the sides. Repeat until mixture is creamy and all the fruit is blended in. Serve immediately for soft serve, or freeze for 2 hours and serve as ice cream.
---
This 'ice cream' is incredible. It really is. I've seen about a dozen versions of this online. The one I based this recipe off of was from BuzzFeed posted on Goodful Facebook page. The recipe there didn't provide the right consistency/results that I was looking for. So I modified it slightly. I've only tried the Banana Strawberry version so far, but I will likely use this recipe as a base for more quick frozen desserts.
If you are looking for a no-sugar added dessert, and one that's quick, this is the dessert for you. Just freeze your bananas when they get too ripe to eat so you can make this anytime.
Enjoy!