Going sugar free is easy if you want to substitute with Agave syrup, honey, etc.  But when trying to remove all added sugars, including artificial sweeteners, cookies become a little more difficult.  I'll be experimenting with more sugar free cookies and posting them here.  This one I thought had a great texture but was not very sweet.  Perfect though for those who are just craving chocolate and need that soft cookie to remove those sugary cravings.
No Sugar Added Chocolate Cookies
Print recipe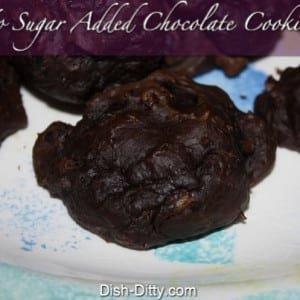 | | |
| --- | --- |
| Serves | 20 cookies |
| Prep time | 10 minutes |
| Cook time | 15 minutes |
| Total time | 25 minutes |
| By author | Dish Ditty |
Ingredients
2 Large Bananas (mashed)
3 tablespoons Butter (softened)
1 Egg
2 teaspoons Vanilla
1 cup Flour
1/4 cup Unsweetened Cocoa
1 1/2 teaspoon Baking Soda
1/2 teaspoon Salt
1 1/2 cup Dried Fruit (Cherries are my favorite)
Directions
Step 1
Preheat oven to 350 degrees.
Step 2
In medium sized bowl, mix together mashed bananas, softened butter, egg and vanilla. Make sure it is mixed well.
Step 3
In a separate bowl, sift together flour, unsweetened cocoa powder, baking soda and salt. Add to banana mixture and combine well.
Step 4
Stir in dried fruit.
Step 5
Drop onto parchment lined baking sheet and bake at 350 degrees for about 12-15 minutes.
Step 6
Serve warm. Store in a sealed tight container in the refrigerator.