Today would have been my mom's 84th birthday and the best way I can honor her is to post one of the recipes from our family cookbook. This recipe was listed as "Tinfoil Steak". I don't remember it, but it was so good, and easy, that I have to post it. Happy Birthday Mom!
Tinfoil Pot Roast
Print recipe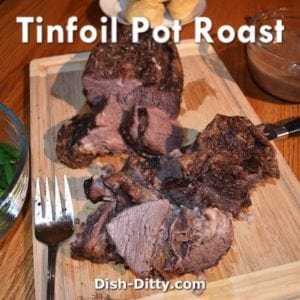 Ingredients
1 Package dry onion soup mix (Lipton's)
2-4lb chuck roast
1 can condensed cream of mushroom soup (Campbell's)
Note
In our family cookbook as "Tinfoil Steak", although it isn't steak, so I renamed it to Tinfoil Pot Roast.
Directions
Step 1
METHOD 1 (ORIGINAL):
On the bottom of a throwaway tinfoil pan put a sheet of heavy duty, wide tinfoil.
Pour the Onion Soup Mix on the bottom (no water). Lay the meat on that, put the
can of undiluted mushroom soup over it and seal the aluminum sheet.
Bake 5 hours at 250 degrees, do not open at any time.
Step 2
METHOD 2 (CROCKPOT):
Rub the roast with the lipton onion soup and place in the crock pot. Pour the mushroom soup on top of roast and spread it around. Cover and cook on low for 8 hours.
---
Our family cookbook has hundreds of recipes collected by my mom, dad, me and my siblings. Some are tried and true, some are curious, and some sound great, like this one.
I'm guessing this was on the back of the Lipton box or Campbell's can. Either way, it was super tender and very flavorful. The recipe as pictured was made with the 2nd method using a Crockpot. I can see this being very good in my new Instant Pot, I'm guessing 1 hour?
Either way you make it, it will be delicious. Enjoy!