Inspired by Cherri's Stuffed Mushrooms, this hot appetizer is simple and easy giving you the taste of stuffed mushrooms without the fuss.
Unstuffed Mushrooms
Print recipe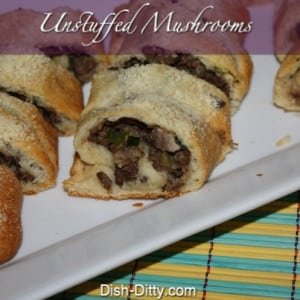 | | |
| --- | --- |
| Serves | 12-16 |
| Prep time | 15 minutes |
| Cook time | 15 minutes |
| Total time | 30 minutes |
| By author | Dish Ditty |
This appetizer was inspired by my mom's stuffed mushrooms recipe. When I was little, my mom would put the leftover stuffed mushroom filling in the refrigerator for use later. I would put it on white bread and it was amazingly delicious. This appetizer was created with my memories of those post party meals.
Ingredients
2 Packages Croissants
1lb Ground Beef (93% lean)
2 tablespoons Butter (divided equally)
4 Green Onions (finely chopped)
1/4 cup Milk
2 tablespoons Fresh Parsley (chopped)
1/4 teaspoon Salt
1 tablespoon Flour
1 tablespoon Breadcrumbs
1 tablespoon Parmesan Cheese
1/4lb Mushrooms (cleaned and finely diced)
Directions
Step 1
Preheat the oven to 350 degrees.
Step 2
Cook the ground beef until browned. Drain any rendered fat and transfer beef to a bowl.
Step 3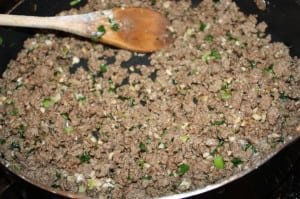 Add the butter to the pan and sauté the chopped mushrooms and green onions for about 2 minutes. Return the ground beef to the skillet and add the flour. Cook for about 1 minute, stirring constantly.
Step 4
Add the milk, parsley flakes, salt, and flour. Stir over low heat until thickened (about 2-3 minutes). It should stick together.
Step 5
Roll out the croissants flat, pressing the seams together lightly. Lay the ground beef on top of the croissants as shown.
Step 6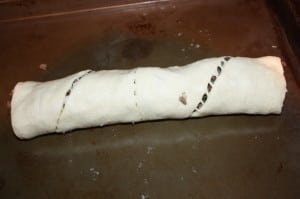 Roll up the croissant as shown. Sprinkle with breadcrumbs and parmesan cheese, if desired.
Step 7
Bake at 350 degrees uncovered until brown on top (about 12-15 minutes).
Step 8
Remove from oven and let cool for about 5 minutes. Slice carefully using a serrated knife.