Chinese Restaurant's have the softest most tender beef you will find. What's the secret? They use a process called 'Velveting' to tenderize the meat before they cook it in their stir fry dishes.

Enjoy!

How to Velvet Beef or Chicken for Chinese Stir-Fry
Print recipe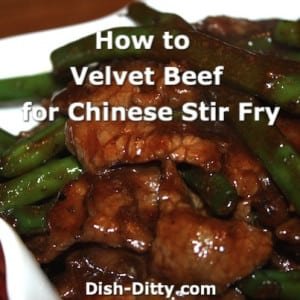 Ingredients
2lb Thinly Sliced Beef (Raw -- not cooked) (Tri tip works great)
2 tablespoons Baking Soda
1/2 cup Water
Directions
Step 1
Mix the baking soda and water together. Toss the sliced beef with the baking soda. Cover and refrigerate for 30 minutes. Rinse thoroughly with cold water. Marinade and stir fry as part of your recipe.
There are several methods available, I've introduced the cornstarch/par-boil method in my 'How to Velvet Chicken' post.
I have been experimenting with other methods of velveting, and I have found that the baking soda method is hands down the best way to tenderize meat for your stir fry. I was shocked at how soft in texture the beef was when I tried it.
I'll be honest, I had read about this method a long time ago but was reluctant to try it. I just didn't think the baking soda would make that much of a difference and I was worried that it would alter the taste. I was wrong. My tip for success is to not use too much baking soda, don't marinade it longer than 30 minutes, and be sure to thoroughly rinse it (otherwise you might wind up with fizzy sauce).
AMAZING! It really is. Try it with your next stir fry. And… I think I'm going to try it the next time I make beef stroganoff. I have a feeling it will make a huge difference there.
Note: The recipe listed is Chinese Black Pepper Beef with Green Beans Recipe that hasn't been posted yet. Sign up for email recipes to be sure not to miss that post.