Say that 10 times fast!  Viv's Chocolate Chip Delight Cookie Recipe is my take on the old standard Toll House Chocolate Chip Cookie Recipe.  
Chocolate Chip Delight Cookies
Print recipe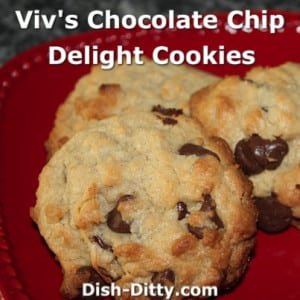 Ingredients
2 1/2 cups Flour
1 tablespoon Baking Powder
1 teaspoon Ground Cinnamon
1/4 teaspoon Fresh Ground Nutmeg
1/2 teaspoon Salt
1 cup Salted Butter (softened to room temperature)
1 1/4 cup Brown Sugar (firmly packed)
1/2 cup Granulated Sugar
2 Eggs
2 teaspoons Vanilla
1 cup Sweetened Shredded Coconut
1 12/ cup Chocolate Chips
Note
Optional: I like to turn this into an oatmeal based cookie by adding 1.5 cups oatmeal and reducing the flour by 1 cup.
Directions
Step 1
Preheat oven to 350 degrees.
Step 2
Combine flour, baking powder, salt, cinnamon, and nutmeg in a bowl and set aside.
Step 3
In large mixer, beat butter for a couple minutes to make creamy. Add granulated sugar and brown sugar to butter mixture and beat on medium speed until creamy. Add eggs and vanilla and bet again for a couple minutes to make creamy.
Step 4
Slowly add flour mixture to butter/sugar/egg mixture. Once combined, beat on high for about 2 minutes. Reduce speed and add in coconut and mix on low until coconut is combined. Remove bowl from mixer and with a spoon, stir in the chocolate chips.
Step 5
Drop chocolate chip batter into balls onto un-greased cookie sheet lined with either parchment paper or tin foil. It is best if you use a scoop to make even sized cookies, but dropping using a spoon works well too.
Step 6
Bake at 350 degrees for 13-15 minutes or until edges are light brown. Remove from oven and, keeping the cookies on the foil/parchment, move the foil/parchment off of the cookie sheet onto a cool surface to cool.
---
I find that I love chocolate chip cookies, but also want some variety as well.  This is a soft fluffy cookie that will have your guests guessing what you put in them.  Try them as is or modify them yourself using hints and tips at The Science of Chocolate Chip Cookie article.
Freeze the dough! I usually don't want to eat a full batch of cookies at one time. So, I place balls of dough on tinfoil on a flat surface and freeze for about 1 hour. Remove the balls from the tinfoil and store in zip lock bags. Just pop the frozen balls onto a cookie sheet and bake at 350 degrees for 15-17 minutes. I sometimes even just make a couple cookies in the toaster oven. Perfect for portion control, if there can be such a thing with cookies.
---
Step by Step Pictures