This is a modification of my mom Cherri's Shrimp Dip, which we believe was a modification on the classic dip with cream cheese, chili sauce, and shrimp.
The dip I made from my mom's recipe was a little runny and didn't have nearly enough shrimp. So, I took the recipe and made some minor modifications.  I've included the original recipe as well.
Shrimp Dip
Print recipe
| | |
| --- | --- |
| Serves | 12 |
| Prep time | 10 minutes |
| By author | Dish Ditty |
I've adapted this recipe from one my mom had in our family cookbook. It wasn't quite right, so I took a bit of time adjusting the ingredients to come up with the perfect blend of shrimp to cream.
Ingredients
6oz Whipped Cream Cheese
1/4 cup Mayonnaise
1 tablespoon Lemon Juice
1/2 tablespoon Tabasco (to taste)
1/4 Onion (grated)
1/2 bottle Heinz Chili Sauce
1 tablespoon Worcestershire Sauce
2 tablespoons Sour Cream
1/4 cup Extra Hot Horseradish
2lb Cooked Shrimp (chopped)
Directions
Step 1
Excluding the shrimp, blend all remaining ingredients (not the shrimp) together in a food processor or blender. Stir in the chopped shrimp. Refrigerate for at least one hour. Serve with crackers.
Shrimp Dip
Print recipe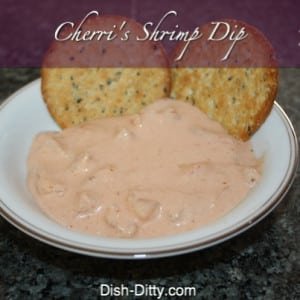 Ingredients
12oz Cream Cheese (softened & whipped)
1/2 cup Mayonnaise
2 Lemons (juice only)
1 tablespoon Tabasco (or to taste)
1/2 Onion (grated)
1/2-2 cup Heinz's Chili Sauce
2 tablespoons Worchestershire Sauce
1/4 cup Sour Cream (light is ok)
Salt & Pepper (to taste)
2-4 tablespoons Horseradish (Optional)
2lb Shrimp (cooked, chopped)
Note
This dip is a little loose, but it is tasty.  I put 1/2-2 cups of Heinz sauce since when I tasted the original recipe (1/2 cup), it didn't have the flavor I remembered.  Adding the entire jar of chili sauce gave the expected flavor.  The original recipe did not call for horseradish, but we added it and it was even better.
I plan on modifying this recipe in the following way:  Halve all the ingredients except the shrimp and chili sauce.  Use 1 cup of Chilli Sauce and keep the shrimp at 2 pounds but use the baby shrimp so there's no chopping. If you try this recipe modification, let me know your thoughts.
Directions
Step 1
Chop shrimp up into bite size pieces. Blend all remaining ingredients (not the shrimp) together in a food processor or blender. Add the shrimp. Refrigerate for about 1 hour. Serve with your favorite crackers like Ritz or Rye Crisp.