Baked beans are a staple in backyard BBQs all over. Perfect for your next gathering.

Baked Beans
Print recipe
Ingredients
1lb Thick cut bacon (diced)
1 Large Onion (diced)
6oz Tomato Paste
1/4 cup Molasses
1/3 cup Brown Sugar
1/4 teaspoon Cayenne Pepper (or more to taste)
1 teaspoon Black Pepper
2 teaspoons Salt
2 cans White Beans (with liquid)
3 cans White Beans (drained)
Directions
Step 1
Dice Bacon...
Step 2
Dice your onion...
Step 3
Then cook the onion and bacon together in a dutch oven for about 5 minute. You do not want the onion to get browned or the bacon to get crispy.
Step 4
Except for the beans, add the remaining ingredients and bring to a boil, stirring frequently.
Step 5
Add the beans, cover and bake at 350 degrees for 2 hours.
Step 6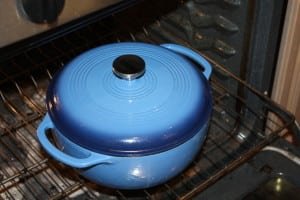 Reduce heat to 225 and bake for additional hour.
---