One more for your clean eating lifestyle. The meatballs can be homemade (I did cheat so not 100% clean eating). Either way, your carbs on this is very low but you will love it as an alternative to standard spaghetti noodles. Great for those who are Gluten Free.


Zucchini Spaghetti & Meatballs
Print recipe
Ingredients
1/2 Sweet Onion (finely diced)
1/4 Green Bell Pepper (finely diced)
1 tablespoon Garlic Olive Oil
1 tablespoon Minced Garlic
1 1/2 teaspoon Dried Oregano
1 teaspoon Italian Seasonings
1/2 cup Red Wine
2 cans Contadina Tomato Sauce (14.5 oz per can)
3oz Contadina Tomato Paste
1 teaspoon Sugar (omit if using a different/sweeter brand of sauce)
2lb Mini Meatballs
4-6 Zucchini
Directions
Step 1
Put a large pasta pot on the stove with water and turn it on to bring to a boil while you prepare your sauce and zucchini noodles.
Step 2
Next, start making your sauce. In a large pan with a lid, cook your onion and bell pepper in garlic olive oil until onion is translucent (about 3 minutes).
Step 3
Add minced garlic, dried oregano, italian seasoning and stir to combine well. Add red wine, tomato sauce, tomato paste and sugar. Mix well. Add the meatballs. Bring to a boil, reduce heat, cover and simmer for about 20-30 minutes while you prepare your Zucchini Noodles.
Step 4
Using the Vegetable Spiralizer, spiralize your zucchini. This takes a bit of time if using the original spiralizer as shown. I might get the more expensive one later as it will likely be a lot faster to use.
Step 5
Once you have all your zucchini ready, your water should be boiling. Add the zucchini to the boiling water and boil for only about 1 minute. It doesn't take too long. Be sure to drain, shaking off excess water.
Step 6
Serve the zucchini noodles with the sauce and meatballs. Top with Parmesan and/or Mizithra cheese.
---
Trying to figure out how to cut the carbs in your diet without sacrificing your standard diet? This is one of my latest favorite dishes to make for myself. I still make regular noodles for my son and husband, but they usually will sprinkle in some of the zucchini noodles to add additional vegetables to their meal.
Here's a picture of me spiralizing the zucchini with the Veggetti Spiralizer: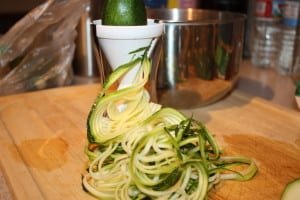 So, don't worry… have your spaghetti and Enjoy!