Banana Split Dessert
Print recipe
| | |
| --- | --- |
| Serves | 12-16 |
| Prep time | 30 minutes |
| By author | Dish Ditty |
Ingredients
Crust
2 cups Graham Crackers
1/4lb Butter (melted)
Filling
2 cups Powdered Sugar
1/2lb Butter (softened)
2 Eggs
1 teaspoon Vanilla
Topping
7 Bananas (cut lengthwise)
4 cups Crushed Pineapples (drained - 2 cans)
16oz Cool Whip (or Whipped Cream)
1 cup Walnuts (chopped)
1/2 cube Maraschino Cherries (drained, cut in half - 1 jar)
Note
Passed down from my Grandma (Mom's side).  The recipe written in my mom's cookbook had 'margarine', but I'm pretty sure margarine wasn't around when this recipe was created.  I used butter and it was perfect. Yes, this uses raw eggs, sorry about that, but it really is amazing.
My Mom Cherri's Modifications: To lighten this recipe, use a light butter flavored spread (check the trans fats, suggestions: Earth Balance, Olivio or Smart Balance), use 4 ounces of egg beaters instead of the eggs, and use Cool Whip Lite  Those three changes will reduce the calories in half and the fat by about 30%. Reducing the sugar on this recipe is a little more difficult.
Directions
Filling
Step 1
Cream the powdered sugar and the softened butter. Add the eggs and vanilla and beat for 20 minutes. While the filling is beating, make the crust and drain the cherries and crushed pineapples.
Crust
Step 2
Mix the graham crackers and the melted butter together and press on the bottom of a 9 X 13 inch pan. To create an even crust, use a metal measuring cup to press the graham crackers down.
Topping
Step 3
Spread the batter evenly onto the graham cracker crust. Then layer the sliced bananas, crushed pineapple and Cool Whip. Sprinkle with the chopped nuts, place the cherries on top and refrigerate for at least 1 hour.
Step 4
Slice & Serve!
12 Days of Christmas Recipes…  Day 12
Banana Split Dessert
Day 12 of 12 Days of Christmas Recipes final recipe is from my grandmother and is the most amazing desert ever. Banana Split Dessert is what it says, it's bananas with a creamy velvety goodness. I am dying now, I want some!
I hope you and your family have a very Merry Christmas, Happy Chanukah, Happy Holidays or whatever you celebrate, even if it's just life.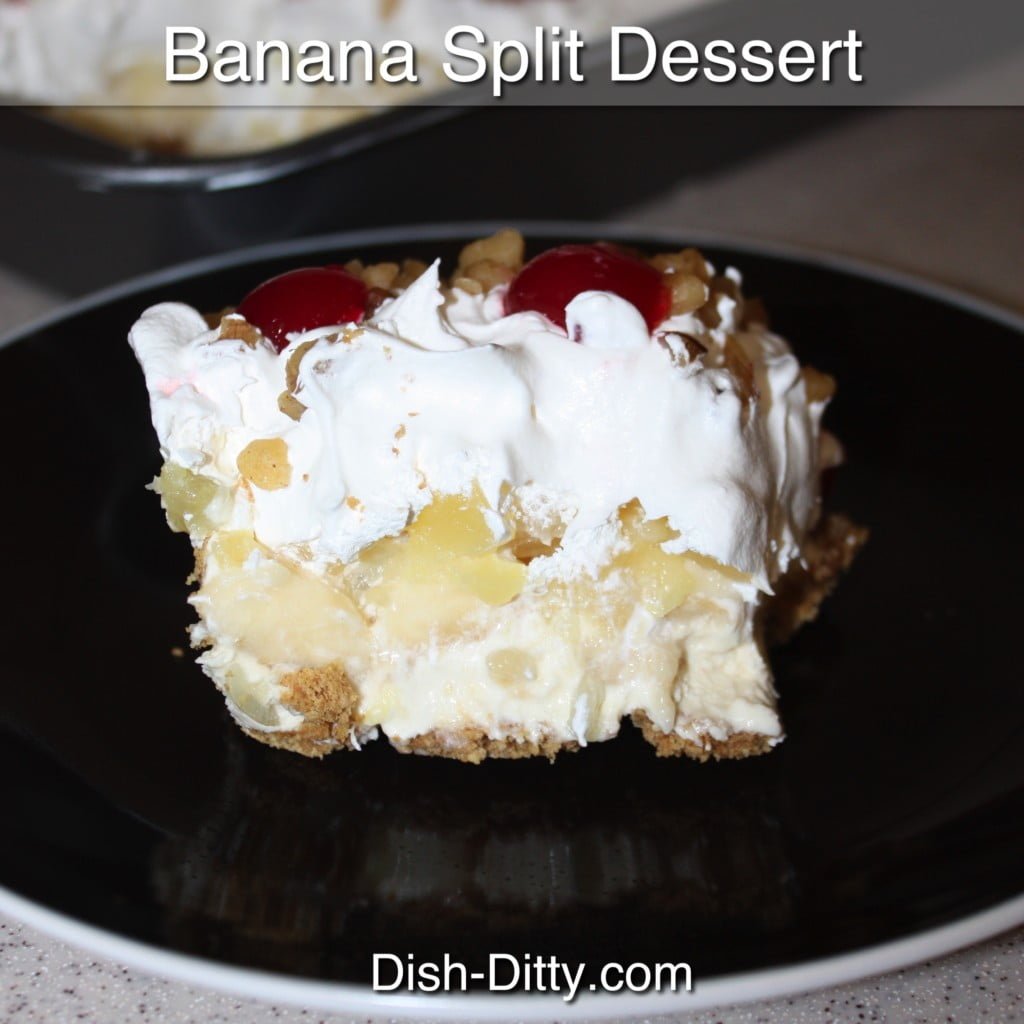 #recipe  #christmas #christmasrecipe #recipes  #recipes #christmasrecipes #dessert #christmasdessert #dessertrecipe #christmasdessertrecipe  #partyrecipe #potluckrecipe #yummy #christmastime #traditions